Key points:
Citrix shares fell 3.71% after agreeing to a $16.5 billion acquisition.
TVista Equity Partners and Elliott Management are acquiring the company.
The firm may return to the public markets in a potential future IPO.
The Citrix Systems, Inc. (NASDAQ: CTXS) share price fell 3.71% today after announcing that it is close to finalising an acquisition deal by a pair of private equity buyers.

The duo comprises Vista Equity Partners and Evergreen Coast Capital, an affiliate of Elliott Investment, which values the company at $16.5 billion.
However, shareholders are not happy with the deal that values each outstanding Citrix share at $104, which is much lower than yesterday's closing price of $105.55.
While Vista Equity Partners and Elliott Management argues that the price represents a 30% premium to where the shares were trading in December, some shareholders and analysts argue that Citrix shares tarded as high as $144 in April 2021.
The deal is set to proceed as Citrix has agreed to the acquisition price that will see it combined with Vista's TIBCO Software, a private data management company bought by Vista in 2014. The company used to be listed before Vista's acquisition.
However, given how private equity funds operate, I would not be surprised to see Citrix Systems return to the public markets in future once the two firms have recouped their investment and made a substantial profit.
Private equity funds are infamous for taking companies private, firing employees, spinning off lucrative business divisions, and taking on significant debt before returning them to the public markets a shell of their previous selves.
However, it is interesting that Vista Equity Partners has held on to TIBCO software for over six years since acquiring it in 2014 instead of the 3-5 year holding cycle applied by most private equity firms.
*This is not investment advice. Always do your due diligence before making investment decisions.
Citrix Systems stock price.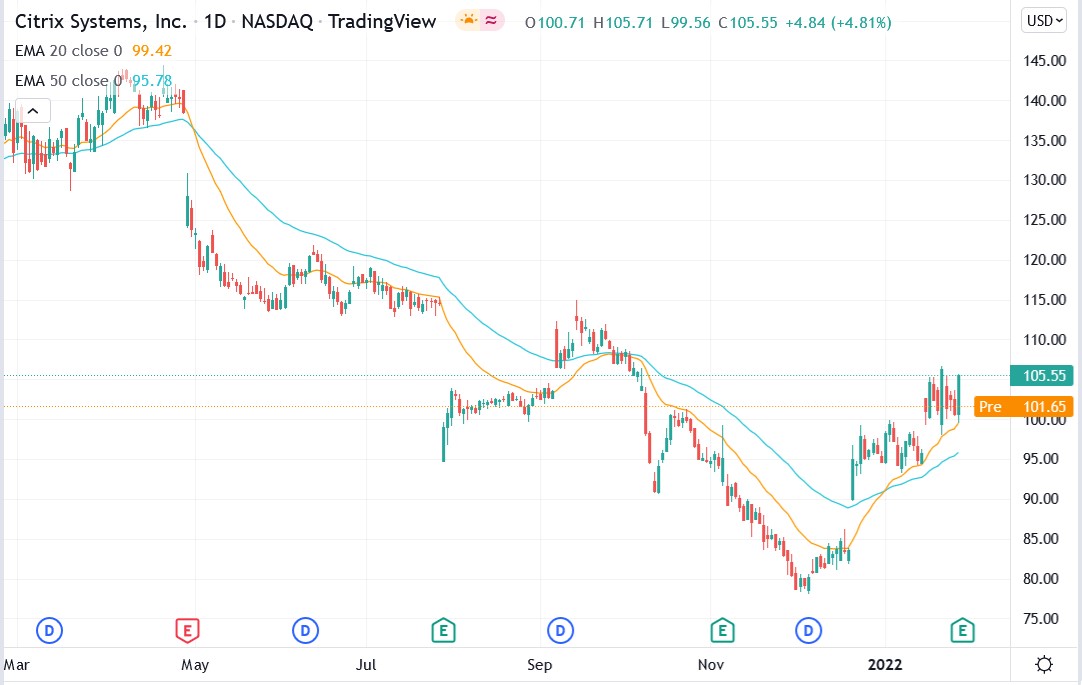 Citrix shares had fallen 3.73% premarket to trade at $101.61, falling from Friday's closing price of $105.55.