Key points:
Superdry shares fell 5% despite releasing upbeat full-year 2022 results.
Investors were unhappy to see e-commerce revenues shrink.
The company's focus on full-price sales could work over the long term.
The Superdry PLC (LON: SDRY) share price fell despite the premium men's and women's fashion retailer revealing that its revenues had surged 59.8% for its 2022 financial year, which ended on 23 April 2022.

The fashion company revealed that footfall at its stores had improved but was still below pre-Covid levels despite the lifting of most of the movement restrictions in the countries in which it operates.
However, the company's Q4 figures were impressive. In addition, the quarter was more prolonged than in previous periods, unlike in 2021 and 2020, since covid-related movement restrictions were lifted in the middle of the quarter.
Still, investors were worried about the weak in-store sales figures since the retailer still maintains a decent number of physical stores. Furthermore, investors were disappointed to learn that e-commerce revenues had dropped 24% annually as customers preferred to shop at Superdry's stores.
The retailer lags other UK retailers such as Boohoo's, whose sales have grown significantly despite the Covid-19 pandemic's impact.
Superdry said that full-price sales rose 26% annually after it minimised promotions and focused on full-price sales that positioned it as a premium fashion brand. The strategy could work over the long term but may cost it some sales in the short term.
A crucial advantage of focusing on full-price sales is that the company's overall margins improved by 5.9%, which is impressive in the retail industry, where margins are usually razor thin.
The company is also focused on wholesale sales, which improved 4% in the past financial year, marking a slight improvement despite the prolonged lockdowns in Europe.
Julian Dunkerton, Superdry's CEO, said: "We continue to execute our strategy of returning the Superdry brand to a premium position, and I am excited by the progress we are making. Despite the ongoing tough trading conditions and turmoil in the market, our focus on full-price trading will deliver a strong gross margin improvement for FY22.
Adding:
"We are conscious of the cost-of-living pressures on consumers, meaning that now, more than ever, we must continue to deliver a product that stands for what is important to them: quality, style and sustainability at great value."
Superdry shares have fallen 46.16% in 2022 but have recently bottomed at the 133p support level. However, before buying, I would wait for a rally above the 180p resistance level.
*This is not investment advice. Always do your due diligence before making investment decisions.
Superdry share price.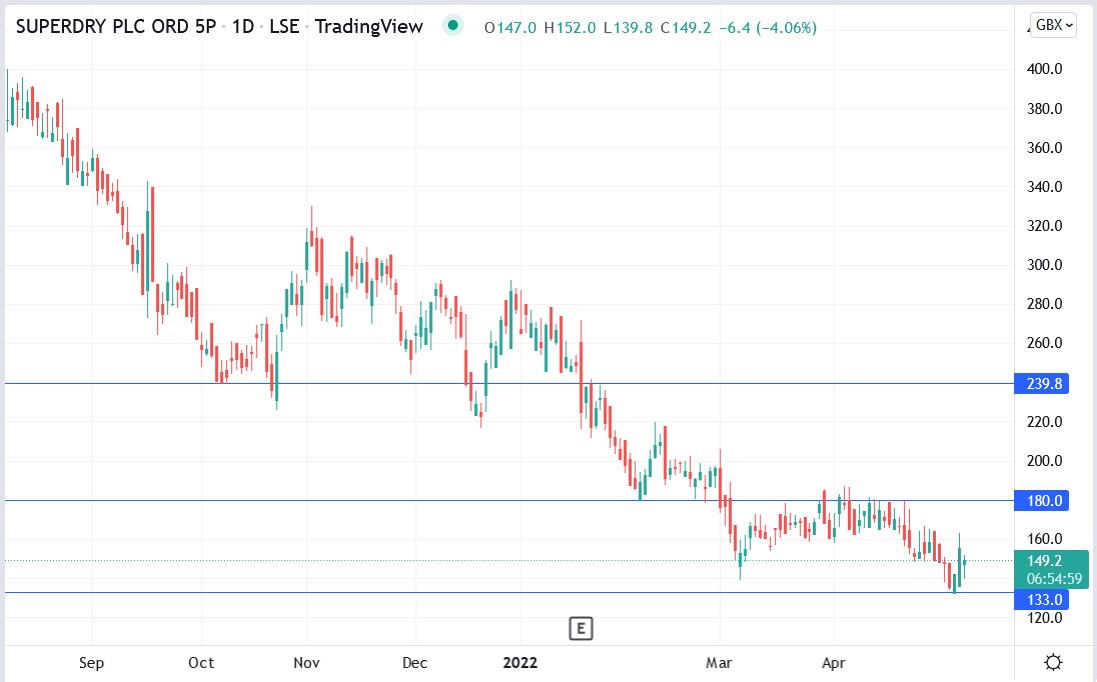 The Superdry share price has fallen 46% in 2022 and appears to have recently bottomed.