Key points:
Boohoo shares barely moved today despite releasing its annual report.
There were no surprises in the report since it had released its FY results.
The fast-fashion company faces struggling to repair its tainted image.
The Boohoo Group PLC (LON: BOO) share price barely moved despite the British clothing company releasing its annual report earlier today. There was little surprise in the report, given that the fast-fashion company released its annual results earlier this month.

Investors were keen to read the company's sustainability report for 2022, where they quickly found out that the group's market-based carbon footprint increased by 29% compared to last year.
Of course, a higher carbon footprint is not the best start for a sustainability report. Still, the company promised that it intends to reduce its carbon footprint by up to 52% via a science-based system split into Scope 1, 2 and 3.
Investors should note that this was Boohoo's second annual sustainability report. The company is working hard to rebuild its image following the Leicester sweatshop scandal in 2020, which irreparably damaged the Boohoo brand.
The scandal triggered a mass exodus of institutional investors and some retail investors, which saw Boohoo shares plunge from a high of 433p in June 2020 to their current price of 81p.
To its credit, Boohoo has taken tangible measures to revamp its supply chain, including the thorough vetting of suppliers and even opening a flagship manufacturing facility in Leicester.
Boohoo shares took a hit when it revealed that its annual earnings in 2021 had fallen 28% due to the high number of returns, high international shipping costs and other supply chain constraints. In addition, analysts from Panmure Gordon recently lowered their Boohoo forecast, citing the lack of confidence in the company growing its UK market share.
The company is also expected to report lower sales and profit margins. However, we can only find out about this in future.
Meanwhile, Boohoo shares are down 34.5% in 2022 and could rally higher after twice bouncing off long-term support. Hence, the current BOO share price is attractive. However, a break below the 66p support level would invalidate the bullish setup.
*This is not investment advice. Always do your due diligence before making investment decisions.
Boohoo share price.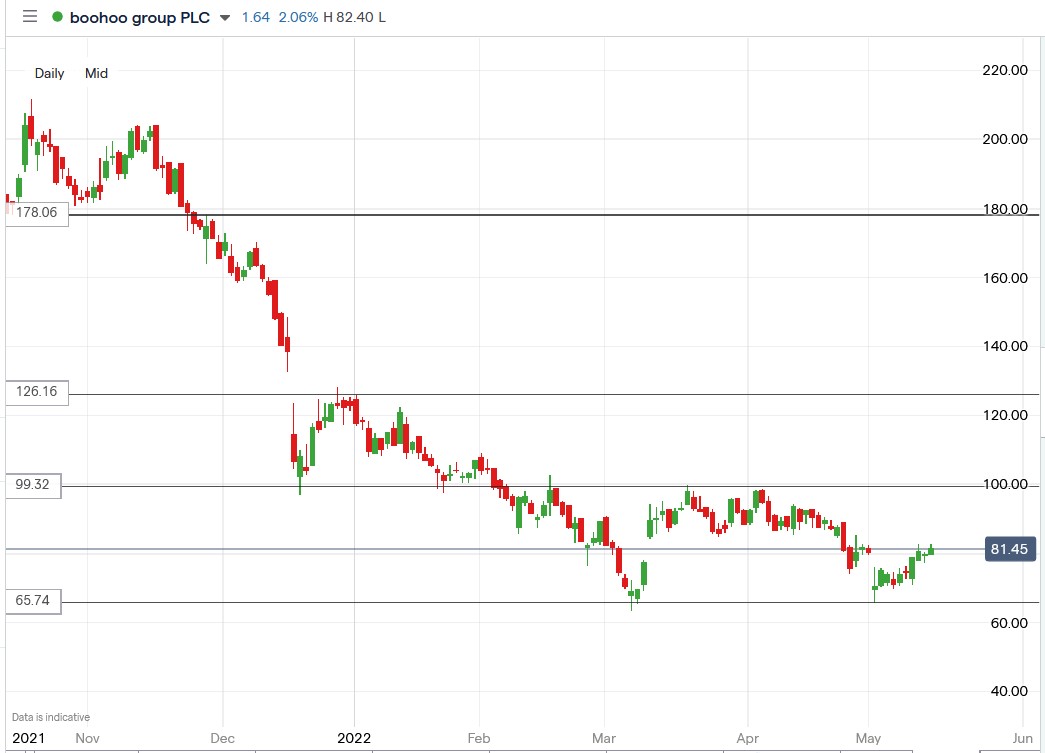 Boohoo shares have fallen 34.48% in 2022 but could be headed higher after the latest bounce.