Key points:
Cleveland Cliffs (CLF) stock plunged 7.59% despite excellent FY results.
Its shares plunged in a classic 'buy the rumor, sell the news' scenario.
I would buy the stock on any future dips, given its impressive results.
The Cleveland-Cliffs Inc (NYSE: CLF) stock price plunged 7.6% despite the company releasing impressive full-year and Q4 earnings results.
The company that specialises in the iron ore and steel making industries generated record annual revenues of $20.4 billion, with an annual net income of $3.0 billion. Its annual adjusted EBITDA  came in at $5.3 billion, while its operating cash flow was $2.8 billion.
CLF's fourth-quarter results were impressive after generating record revenues of $5.3 billion and net income of $899 million.
The company spent $761 million to acquire Ferrous Processing and Trading Company ("FPT") and used the rest of the cash generated during the quarter to pay off $150 million in debt principal.
Investors should have cheered CLF's upbeat annual and quarterly results with a premarket rally, but this did not happen. Instead, we got a selloff in CLF stock during premarket in a counterintuitive move.
The selloff is a classic "buy the rumor, sell the news scenario" where instead of rallying on the upbeat results, CLF shares fell unexpectedly.
Lourenco Goncalves, Cliffs' Chairman, President and CEO, said: "During the last two years, we completed the construction and started operating our flagship state-of-the-art Direct Reduction plant, and also acquired and paid for the acquisition of two big steel companies and a major scrap company. The results we achieved in 2021 are a clear demonstration of how powerful Cleveland-Cliffs has become, as our revenues grew more than ten times, from $2 billion in 2019 to over $20 billion in 2021. All this growth was profitable, generating $5.3 billion of Adjusted EBITDA and $3 billion of net income this past year. Our strong cash flow generation allowed us to not only reduce our diluted share count by 10% but also to bring our leverage down to a very healthy level of just 1x Adjusted EBITDA."
The CLF board authorised a new share repurchase scheme worth $1 billion without expiry. CLF will primarily acquire the shares via open market or privately negotiated transactions.
The company adopted a disciplined approach to its supply chain, which was crucial in attaining impressive results during Q4 2021. The company identified that demand from its clients in the automotive sector would be weak in Q4 due to supply chain issues.
Therefore, CLF focused on maintaining its steel production and finishing facilities during Q4 instead of fighting weak demand. The move paid off as its facilities are now running full capacity and can take advantage of higher demand in 2022.
CLF stock looks pretty attractive at current prices, but the best time to buy was in early January when the shares were trading near lows, last seen in April 2021. Right now, I would buy on any significant dips.
*This is not investment advice. Always do your due diligence before making investment decisions.
CLF stock price.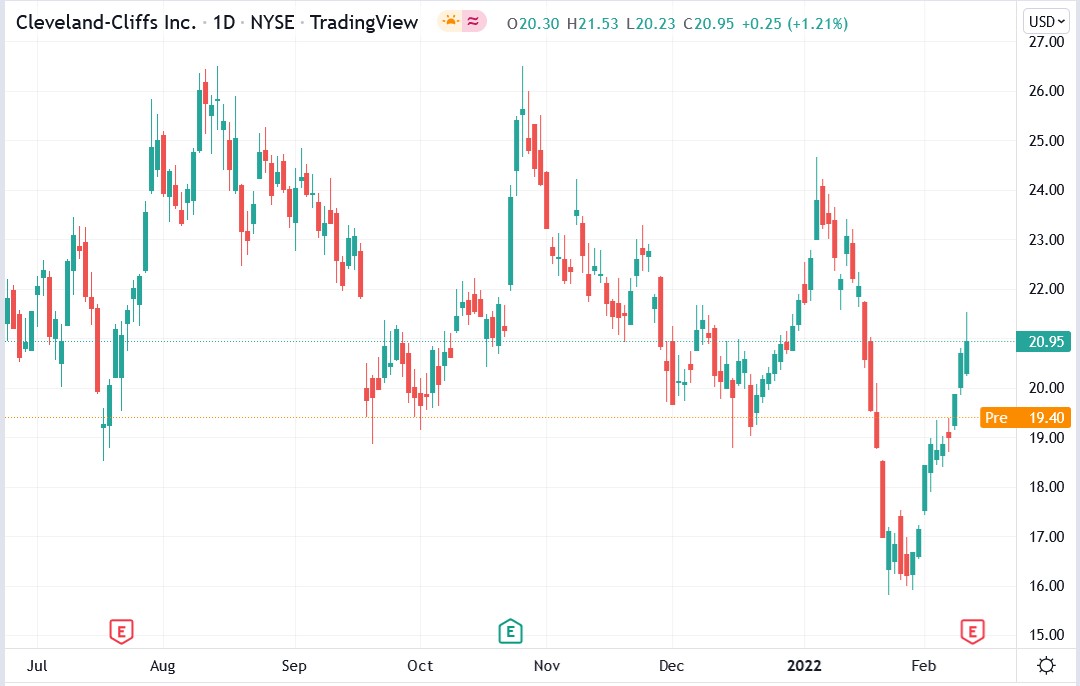 CLF stock price plunged 7.59% premarket to trade at $19.36, falling from Thursday's closing price of $20.95.