Key points:
Open Orphan shares plunged 8.52%lower despite positive news.
The decline can be attributed to the larger downtrend in its share price.
ORPH shares look cheap at current prices, but I wouldn't buy them now.
The Open Orphan PLC (LON: ORPH) share price plunged 8.52% despite an update highlighting its involvement in the FDA's award of the Breakthrough Therapy Designation to Bavarian Nordic A/S.

Bavarian Nordic was awarded the designation for its respiratory syncytial virus ("RSV") vaccine candidate MVA-BN® RSV targeting older adults.
Open Orphan noted that its hVIVO subsidiary conducted a phase 2, double-blinded, placebo-controlled human challenge trial to test MVA-BN® RSV based on its RSV Human Challenge Study Model.
Investors ignored the positive news as Open Orphan shares fell further, bringing their 2022 losses to 38.65% amid a broader selloff of UK biotech companies. Nevertheless, I believe Open Orphan is one of the better companies in the biotech sector, and its shares should be trading higher.
The company has released multiple positive announcements in the recent past. Still, sellers have remained firmly in control of its share price, as evidenced by the massive selloff from its all-time highs of 47.90p hit in April 2021, representing a 70.8% decline.
Cathal Friel, Open Orphan's Executive Chairman, said: "We are pleased to see Bavarian Nordic achieve Breakthrough Therapy Designation for its RSV vaccine candidate, MVA-BN® RSV. hVIVO successfully conducted a human challenge trial on behalf of Bavarian Nordic in 2021, where the candidate showed a significant reduction in clinical symptoms associated with RSV."
Adding:
"The data from this human challenge trial was part of the body of evidence provided by Bavarian Nordic to the FDA to secure its Breakthrough Therapy Designation, which could ultimately result in an expedited regulatory review of MVA-BN® RSV. This highlights a major benefit of human challenge trials. They enable drug developers to obtain Phase 2/2a efficacy data for their vaccine and antivirals candidates in a fast, cost-effective manner ahead of larger-scale studies. This data can then strengthen submissions for important regulatory programmes such as the Breakthrough Therapy Designation."
We can attribute today's decline to the overall bearish trend in Open Orphan shares despite multiple positive news releases in the recent past. Nevertheless, the biotech company's fundamentals are solid, making it a potential investment target.
However, I would not buy until we get a clear signal that the downtrend is over. Then, I would consider two to three green daily candles as a strong buy signal. Still, there are no guarantees in the markets.
*This is not investment advice. Always do your due diligence before making investment decisions.
Open Orphan share price.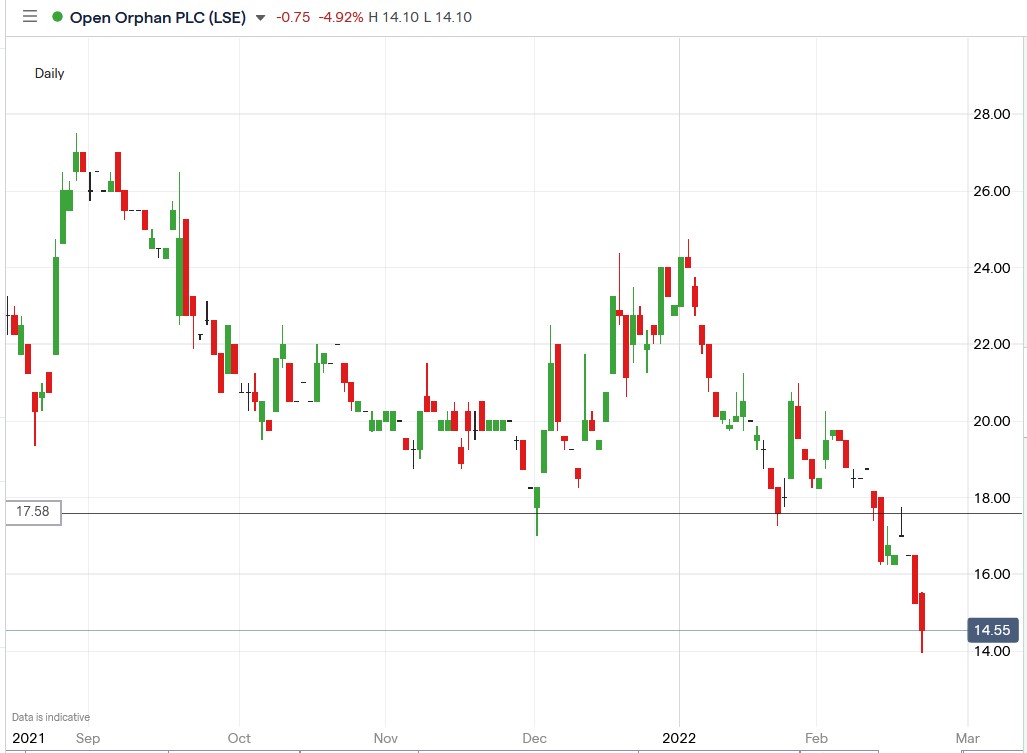 The Open Orphan share price plunged 8.52% to trade at 13.95p, falling from Monday's closing price of 15.25p.