Key points:
The Rite Aid (RAD) stock price rallied 4.5% on mixed Q1 results.
However, the drugstore chain raised its full-year revenue guidance.
So should you buy RAD stock? Read on to find out.
The Rite Aid Corporation (NYSE: RAD) stock price rallied 4.47% higher during premarket trading after releasing its Q1 2022 results. The drugstore chain generated revenues worth $6.015 billion, representing a slight decline from the $6.161 billion reported in Q1 2021.

The company attributed its lower revenues to declining covid-related sales, including tests and vaccinations. The firm's non-Covid prescription soared 11.9%, compensating for the lower demand for covid-related products.
Rite Aid's net loss surged to $110.2 million (-$2.03 per share) compared to the $13.1 million ($0.24 loss per share) recorded in Q1 2021. Interestingly, the pharmacy chain's revenues beat analysts' consensus estimates of $5.729 billion.
Investors cheered the news, as evidenced by the slight RAD share price rise. However, I am not confident in today's rally; a 4% rally in a stock trading at $7 is nothing to write about. RAD shares remain at significant risk of falling further.
Rite Aid shares are already down 54.51% in 2022 and could be headed lower if the stock does not break above the $7 resistance zone highlighted in the chart below. However, there is still hope for RAD stock after the company raised its full-year forecasts for the 2023 financial year.
The drugstore chain now expects to generate between $23.6 billion and $24.0 billion in revenues during its current (2023) financial year, an improvement to its previous guidance of revenues worth $23.1 billion and $23.5 billion.
Rite Aid is a firm that is likely to remain resilient in the face of record-high inflation as patients still have to seek treatment despite the high cost of living. However, given the significant decline in RAD stock this year, the market seems to have different ideas.
Investors looking to acquire RAD stock may do so on a break and retest the $7 resistance level, or they could wait for a retest and bounce off the $4.75 support level, which triggered the latest uptrend. A break below $4.75 would invalidate the bullish thesis.
*This is not investment advice. Always do your due diligence before making investment decisions.
The Rite Aid stock price.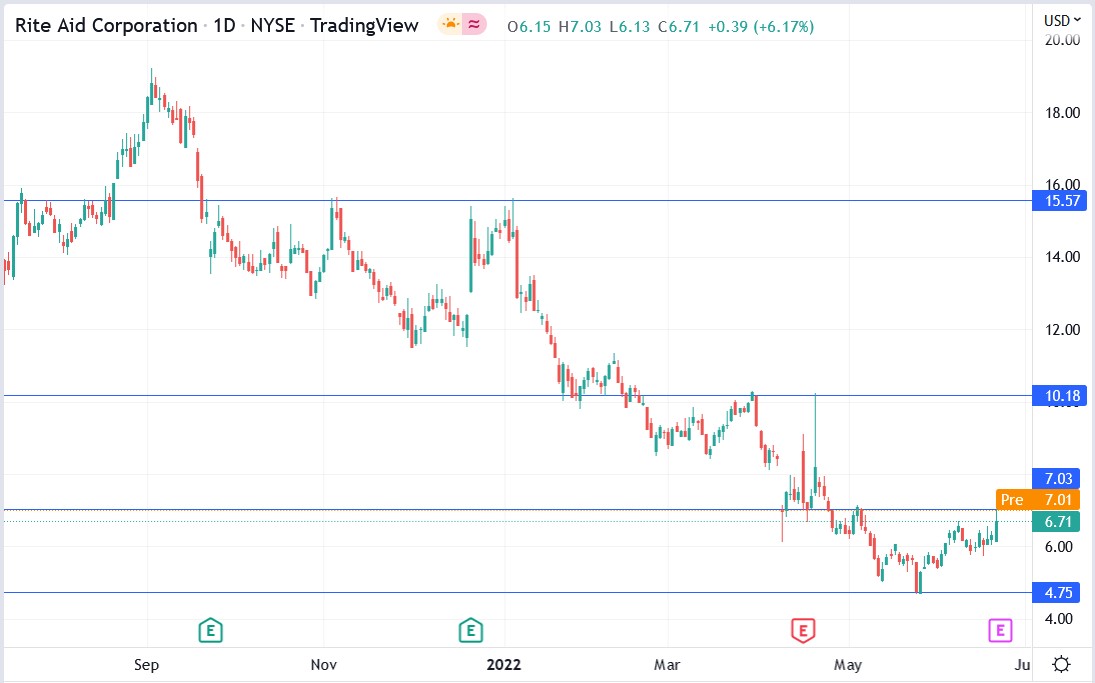 The Rite Aid stock price was up 4.47% to trade at $7.01 after rising from Wednesday's closing price of $6.71.