Key points:
Sonnet Bio stock soared 113.4% after the FDA approved its first clinical trial.
The biopharma company's SON-1010 cancer drug won the FDA's approval.
The FDA's approval turned the company into a clinical biopharma firm.
The Sonnet BioTherapeutics Holdings, Inc. (NASDAQ: SONN) stock soared 113.4% after the biopharma company's Investigational New Drug (IND) application for SON-1010 was approved by the US Food & Drug Administration (FDA).

SON-1010 is a proprietary version of Interleukin 12 (IL-12) that targets solid tumors in adult oncology patients. The company celebrated the milestone, saying that the FDA's approval has transformed it into a clinical biopharmaceutical company.
The company intends to launch the phase 1 trial as a multiple ascending dose study designed to evaluate the safety, tolerability, pharmacokinetics (PK), and pharmacodynamics (PD) of SON-1010 in adult patients with advanced solid tumors.
Investors cheered the announcement, as evidenced by the rally in Sonnet shares, acknowledging that the milestone was indeed a significant one.
However, given that this will be the first human clinical trial of SON-1010, there is still a long way before the drug can be commercialised and generate revenues for Sonnet Biopharma.
Still, the company could license out the drug to a large pharma company with more resources to speed up the drug's development and earn milestone and royalty payments from such an arrangement.
Richard Kenney, M.D., Sonnet's Chief Medical Officer, said: "We have worked hard to establish a dose range for this extended PK form of IL-12 that can be tested safely and may provide an enhanced therapeutic index,"
Adding:
"The goal of this strategy is to carefully adjust the body's cells and cytokines to enhance the innate immune response to tumors."
Pankaj Mohan, PhD, Sonnet Bio's Founder and CEO, said: "The FDA's acceptance of the IND for SON-1010 is an important milestone in the development of our lead FHAB asset, signifying the evolution of Sonnet into a clinical biopharmaceutical company,"
Adding:
"We are excited about the progress we have made with our FHAB platform, which we believe will set the stage for improved efficacy of monospecific and bispecific cytokines, each differentiated by tumor targeting and retention in the tumor microenvironment."
Today's rally is a significant first step for the company's shares that have been trading below the $1 Nasdaq minimum listing price since August 2021. Many hope that the rally will continue for the next few days pushing SONN stock above the $1 level.
However, if the shares do not rise above $1, Sonnet BioTherapeutics might have to initiate a reverse stock split to meet Nasdaq's listing requirements.
*This is not investment advice. Always do your due diligence before making investment decisions.
Sonnet Bio stock price.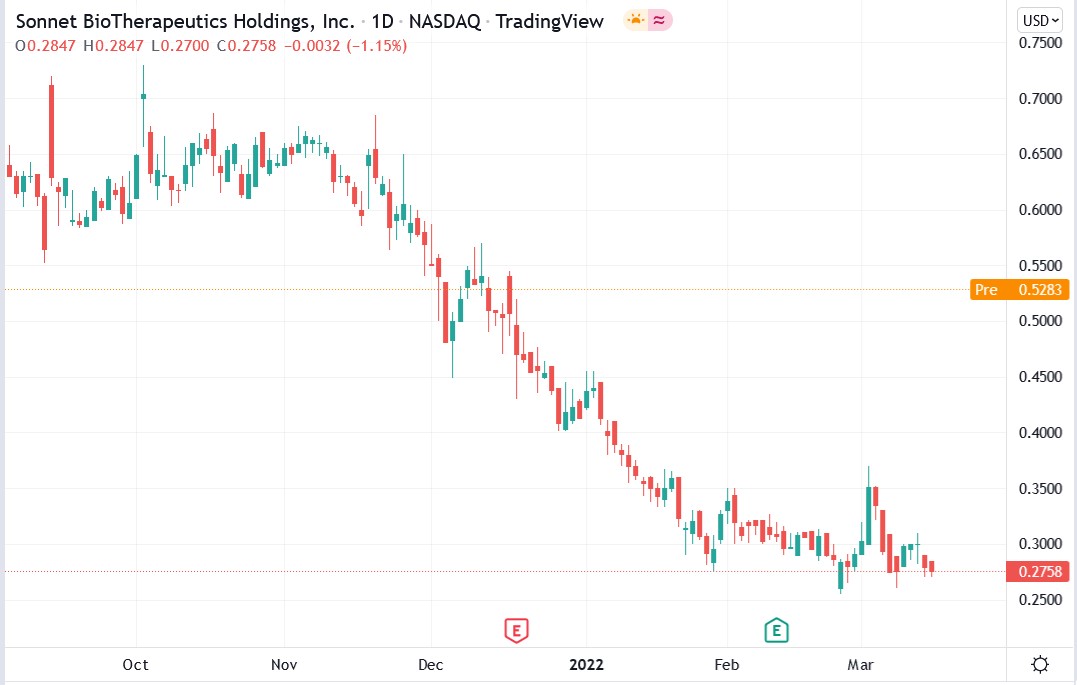 Sonnet Bio stock price soared 113.4% to trade at $0.589, rising from Tuesday's closing price of $0.276.