Key points:
The SPDR Gold ETF (GLDM) stock price soared by over 100% today
The move higher was fueled by a reverse stock split announced this month
The 2:1 reverse stock split came into effect earlier today
The SPDR Gold MiniShares Trust (NYSEARCA: GLDM) stock price soared 100.4% after a 2:1 reverse stock split came into effect earlier today.

The reverse stock split was announced on February 4, 2022, and was approved by the World Gold Council, the gold industry's market development organisation.
The move was meant to increase the price of GLDM while reducing the number of outstanding shares, hence, creating more value for investors.
SPDR is looking to capitalise on rising investor interest in gold ETFs as an inflation hedge. Many governments struggle to fight rising inflation triggered by higher crude oil prices and supply chain bottlenecks due to the impact of the coronavirus pandemic.
Sue Thompson, the head of SPDR Americas Distribution at State Street Global Advisors, said: "With over $4 billion in assets under management, GLDM is the industry leader in providing low-cost access to gold,"
Adding:
"The reverse share split is designed to lower shareholders' total cost of ownership by reducing trading costs that may be incurred when buying and selling shares."
Investors will be happy to know that the reverse stock split will further reduce the total expense ration ("TER") on GLDM to 10 basis points (0.10%), further lowering the total cost of owning the ETF for investors.
The reverse stock split may also attract new investors into GLDM, given that some investment funds have a limit as to the value of the shares of ETFs and companies they invest in since they manage large sums of money.
Therefore, investors wondering why the GLDM stock price soared higher, yet no corresponding increase in gold prices should rest easy knowing a reverse stock split triggered the move.
The SPDR GLD ETF tracks gold prices by holding actual gold bullion and is a safe way of getting exposure to the gold sector by owning physical gold bullion. Other ETFs track the prices of gold companies instead of tracking gold prices and holding physical gold.
Many analysts expect gold prices to rise amid rising inflation. Still, this trade has not worked in the recent past, primarily due to the massive liquidity provided by most central banks globally.
*This is not investment advice. Always do your due diligence before making investment decisions.
GLDM stock price.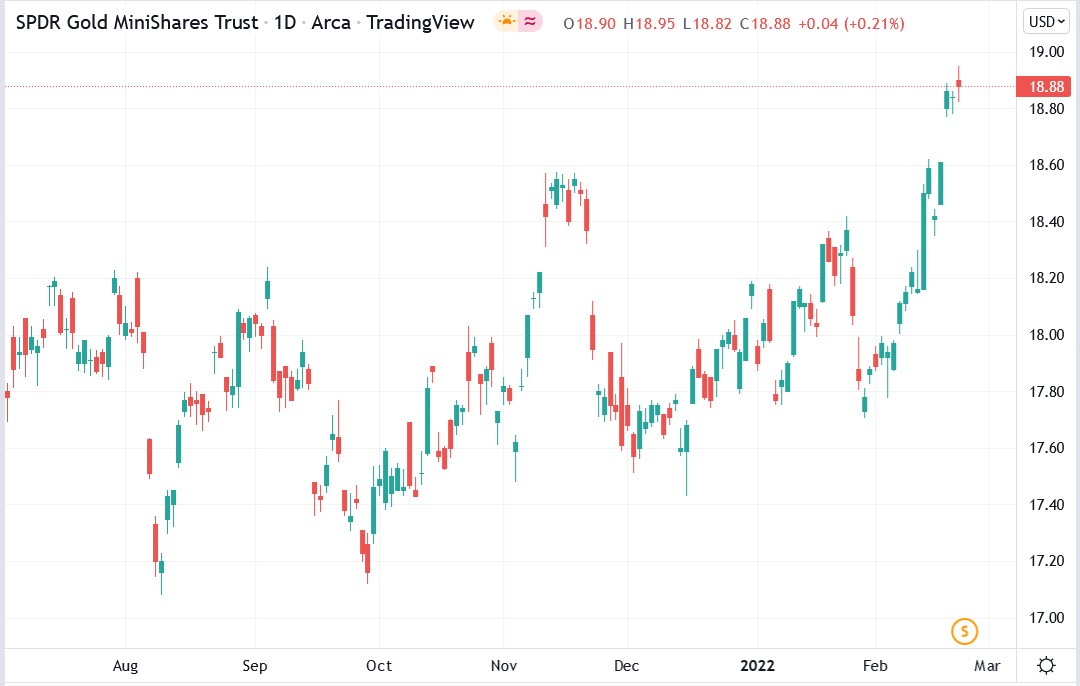 GLDM stock price soared 100.42% to trade at $37.76, rising from Tuesday's closing price of $18.88.