Key points:
Hycroft Mining has been a meme stock and gained investment from AMC
In one story this solves Hycroft's problems
In another telling of the tale this just means Hycroft is a gold prospecting company now
Hycroft Mining (NASDAQ: HYMC) stock has certainly had some excitement recently. There was that leap in valuation as it looked as if Hycroft could become another meme stock, then that investment by AMC off the back of its own meme stock capital raise. There was also a lot of thought that if Hycroft could only gain access to capital then it would be able to resolve its problems and, hey presto, a nice little profitable gold miner. It turns out that this might not be quite and wholly so.

Now, the news from Hycroft itself is hopeful at least. They're launching a new exploration program focused on higher grade ores and opportunities at that mine in Nevada. Which is great – but it does show us two things. Firstly, that more capital hasn't in fact solved that base problem and also that perhaps we ought to be revaluing the company as a whole.
This valuation of Hycroft depends upon the earlier one we had, which is that they did just simply have a capital problem. They were having to ship rock and ore offsite for treatment, the transport costs of this so ate into revenues that the operation could not be made profitable. The solution to this is to gain capital, build a local processing plant and thereby reduce the transportation costs.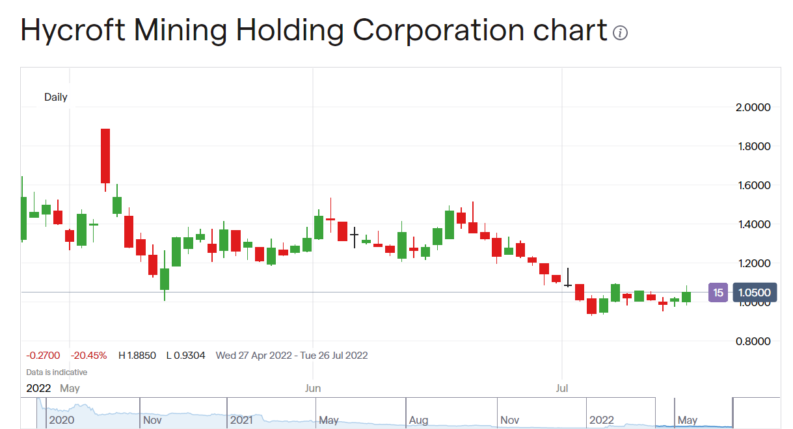 Also Read: The Five Best Gold And Gold Mining Stocks To Buy Right Now
But what if that isn't, in fact, the correct analysis of problems at Hycroft? Or rather, it's an incomplete one?
An alternative explanation doing the rounds is that the low grade – and variable – sulphide ore at Hycroft simply isn't economic to process. The chemistry to make it so just isn't known. The only way to make this work is, in fact, to go and find some other, higher grade ore. That higher grade ore can then carry the cost of all of the infrastructure required for processing. The low grade ore – which then doesn't have to carry the Capex of the processing plant at all – can be used as a marginal feed. And yes, if it doesn't have to carry the Capex costs then it is profitable, even if not wildly so.
What might worry is that this would explain what Hycroft has just announced. They're to look for higher grade ore – which would conform to that possible explanation of what the business problem is. But if that's true then we probably need to down grade our estimations of Hycroft as it is. Yes, sure, if they find more high grade resources then that's great. But it is at least halfway to an admission that the current ore simply isn't economic, isn't it?
At which point Hycroft Mining becomes, in valuation terms, not an operating gold mine, nor even one that can be made operable now that it has capital. Instead, it's a gold prospecting company. The value will only be there if they do find more and higher grade resources. Prospecting operations are worth less than operable gold mines.
The valuation of Hycroft Mining therefore depends on which story we wish to believe.