Shares of Iconic Labs PLC (LON: ICON) rallied 10.3% after the company announced Brad Taylor's appointment as its new CEO. Taylor replaces Sarah Dees, appointed as CEO on February 05, 2021, who served in that capacity for just over six weeks.
Today's announcement comes as a surprise. Sarah Dees was CEO for less than two months before being replaced, indicating significant issues at the media company.
Iconic Labs has had a tumultuous year so far after the company's top executives resigned on February 1 following accusations of mismanagement by OTT Holdings in January. The resignation of the three executives led to the cancellation of the company's lucrative contract with Greencastle Capital.
The media company's board accused the departing executives of making deals with Greencastle Media for their benefit at the company's expense. The appointment of Sarah Dees as CEO was supposed to mark a turning point for the company.
Brad Taylor, the new CEO, has worked with Ott Ventures in various capacities and was previously the general counsel and member of Orco Property Group's executive committee.
In a statement, Taylor said: "I want to thank Sarah Dees for her work these past few weeks and in facilitating my transition to Iconic Labs.  I am delighted to be joining the company.  There is plenty of work to be done with the new board, and I look forward to getting started immediately."
Stephen Birrell, who was appointed as an independent non-executive director shortly after Dees' appointment, also stepped down as a company director with immediate effect.
Investors will be watching Iconic Labs to see if the company will enter a period of stability under the new CEO. Such an eventuality would be great for the company's long-term prospects.
Iconic Labs share price.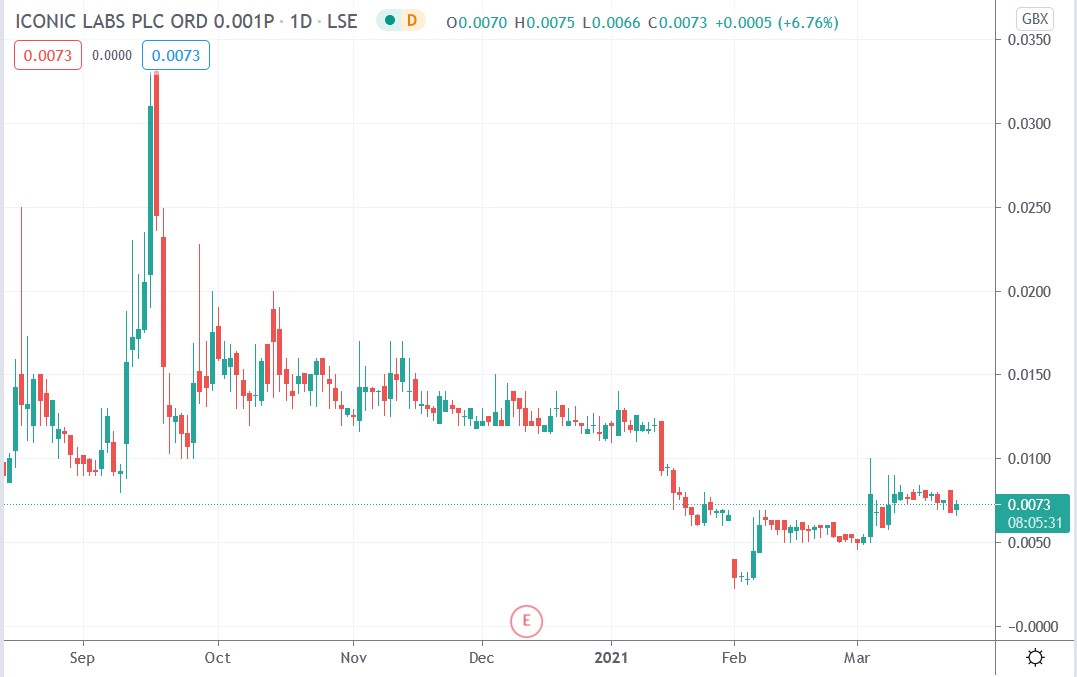 Iconic Labs shares rose 10.29% to trade at 0.0075p, rising from Monday's closing price of 0.0068p.