Key points:
ImmuPharma shares plunged 12% despite a positive FDA update.
The company is waiting for the FDDA to approve its subsequent trial.
Read on to find out why IMM shares fell and if you should buy them?
The ImmuPharma PLC (LON: IMM) share price spiked higher then plunged 12% despite revealing that its US partner Avion Pharmaceuticals (Avion) had met all the Food and Drug Administration's (FDA) requirements. It was now seeking guidance on the upcoming phase III clinical trial of Lupuzor™ in Lupus patients.

The phase III trial will recruit patients from many countries as an international study following the submission to the FDA of the results of the Lupuzor™/P140 Pharmacokinetic (PK) study, which met all its primary endpoints.
Avion held a Type C meeting with the FDA where it submitted the PK data, which showed that P140 was safe and well-tolerated in multiple dosages and all subjects. Avion is now waiting for final regulatory guidance from the FDA before kicking off the phase 3 international study.
ImmuPharma has licensed the exclusive rights to commercialise Lupuzor™ in the United States to Avion Pharmaceuticals but retained the internal rights for the lupus treatment. Avion will fund the phase 3 trial as part of the agreement taking a massive burden off ImmuPharma's shoulders, yet the firm shall still benefit if the trial is successful.
ImmuPharma shares plunged, given that the company still has to conduct a successful phase 3 clinical trial before  Lupuzor™ can be commercialised. Unfortunately, there is no guarantee that the firm will achieve this critical milestone.
Tim McCarthy, ImmuPharma's CEO, said: "This final step by Avion is a pivotal moment for the company and for the progress of Lupuzor™ towards becoming a groundbreaking new treatment for Lupus patients. Lupuzor's™ unique mechanism of action and robust safety profile will, we believe, position Lupuzor™ as first-line therapy to many Lupus sufferers globally."
Art Deas, Avion Pharmaceuticals CEO, added: "Having met all the FDA's requirements, we are delighted to be seeking the FDA's final guidance on moving Lupuzor™ forward into the new international Phase 3 trial."
Should you buy ImmuPharma shares? Unfortunately, there is no clear answer here, given the highly volatile trading patterns of the company's shares, as shown on the chart below. However, investors with a stomach for volatility can buy IMM shares.
*This is not investment advice. Always do your due diligence before making investment decisions.
ImmuPharma share price.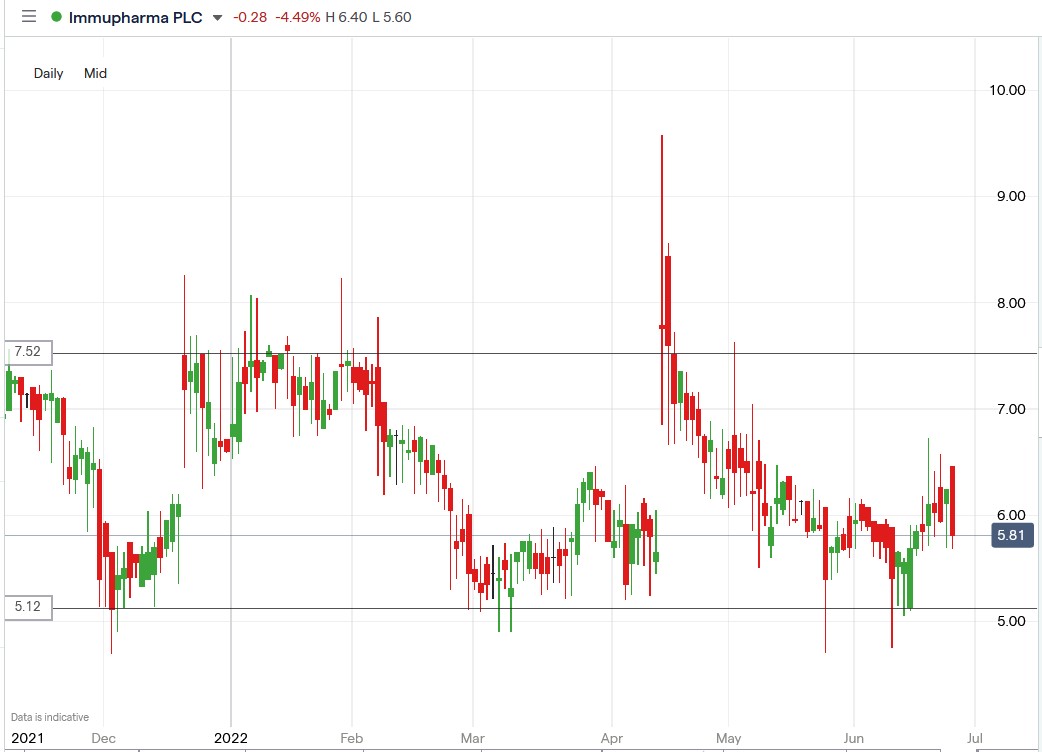 ImmuPharma's share price spiked higher, then plunged 12.07% to trade at 5.68p, falling from its price of 6.46p.