Key points:
Invesco Mortgage (IVR) soared 904.5 today on a 1-for-10 reverse stock split.
The REIT's stock was trading at $.75, which was not attractive to funds.
Most stocks tend to fall after a reverse stock split creating buying opportunities.
The Invesco Mortgage Capital Inc (NYSE: IVR) stock price soared 904.5% today after the real estate investment trust (REIT) implemented a 1-for-10 reverse stock split to boost its share price, making it more attractive to investors.

Generally speaking, it is never a good idea to buy a stock that has just completed a reverse stock split simply because such stocks tend to keep falling the moment such splits are finalised. This is because a stock to do a reverse stock split tends to trade at a price below or near $1 and might have fallen foul of US stock market listing rules.
Such stocks usually continue falling since, in most cases, the firm's stock price might have been temporarily fixed, but the underlying issues that triggered the decline are usually not resolved.
For example, the stocks that frequently do reverse stock splits are usually money pits that lose value over time as there is no tangible business behind the stock. Other stocks have businesses that do not appeal to investors; their stock prices keep falling.
However, IVR is a unique stock in that it is a real estate investment trust that invests in mortgage-backed securities and other mortgage-related assets. Therefore, there is a tangible business behind the stock ticker.
Still, IVR stock has fallen 37% this year despite its Q1 earnings beating analysts' estimates and even announcing and paying a dividend. So, investors are not keen to own IVR stock, which could be the primary reason behind today's reverse stock split.
Now that IVR shares are trading at $17, they can be bought by investors and funds that do not buy penny stocks due to their volatility and the associated risks. While IVR seems like a business doing quite well given its dividend payment, its previous stock price placed it in the penny stock category.
Investors interested in buying a REIT may find IVR attractive, but I would wait for a significant pullback before buying.
*This is not investment advice. Always do your due diligence before making investment decisions.
IVR Stock price.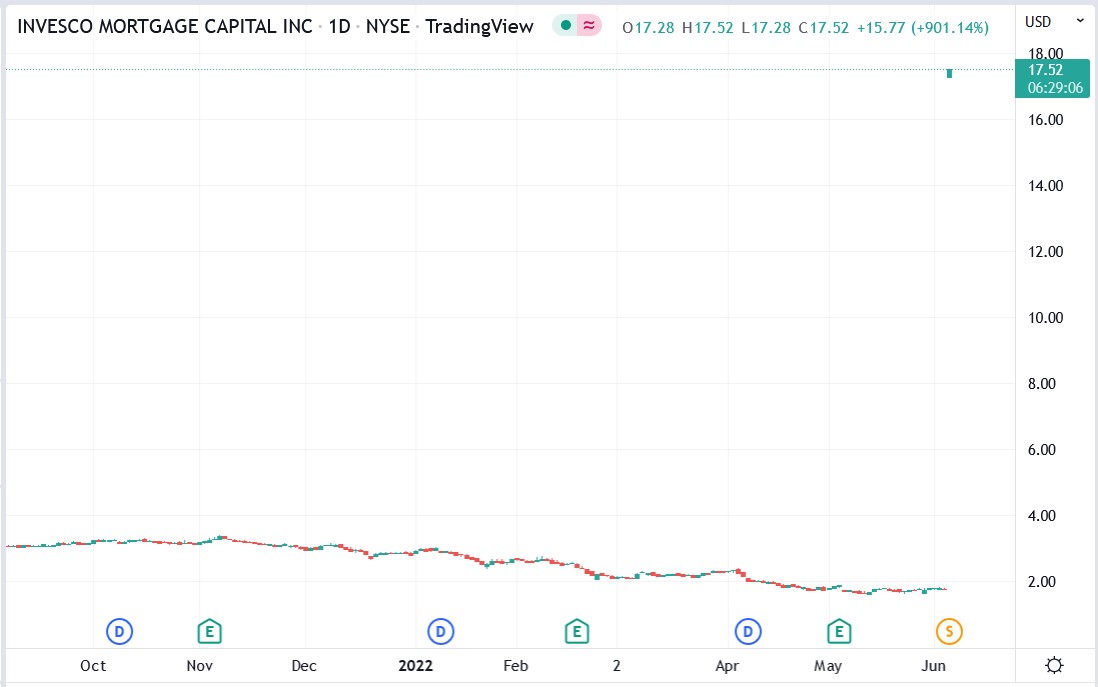 IVR stock price soared 904.5% to trade at $17.58, rising from Friday's closing price of $1.75.