Today, shares of IQ-AI Ltd (LON: IQAI) rallied 14.9% despite the lack of major announcements from the imaging biometrics company as buyers stepped in to defend a key support level again.
The company's last major update was about its Imaging Biometrics subsidiary upgrading its IB Clinic software to include multiple functions and features requested by its clients.
Given the lack of new from the company, we have to turn to IQ-AI's stock chart to see if there is a logical reason for the rally and indeed there is…
The daily chart below shows that IQ-AI's shares bounded off a major support zone on December 31, which resulted in a daily gain of 28% as buyers took control of the price action.
Remember, we saw the same price action when the support level was first touched in early December and buyers came in to defend it.
We can see that the massive rally was followed by a two-day pullback on Monday and Tuesday before today's rally as buyers stepped in again.
The chart continues to look very bullish, and it is quite likely that the bullish momentum will continue for the rest of the day.
Traders who missed the bounce off the support zone may look to establish new positions given the latest pullback.*
Personally, I think the price is a bit extended; I would be looking for a deeper pullback before establishing any new positions, especially since the price is near 12p, which could act as the resistance level.
*This is not investment advice.
IQ-AI share price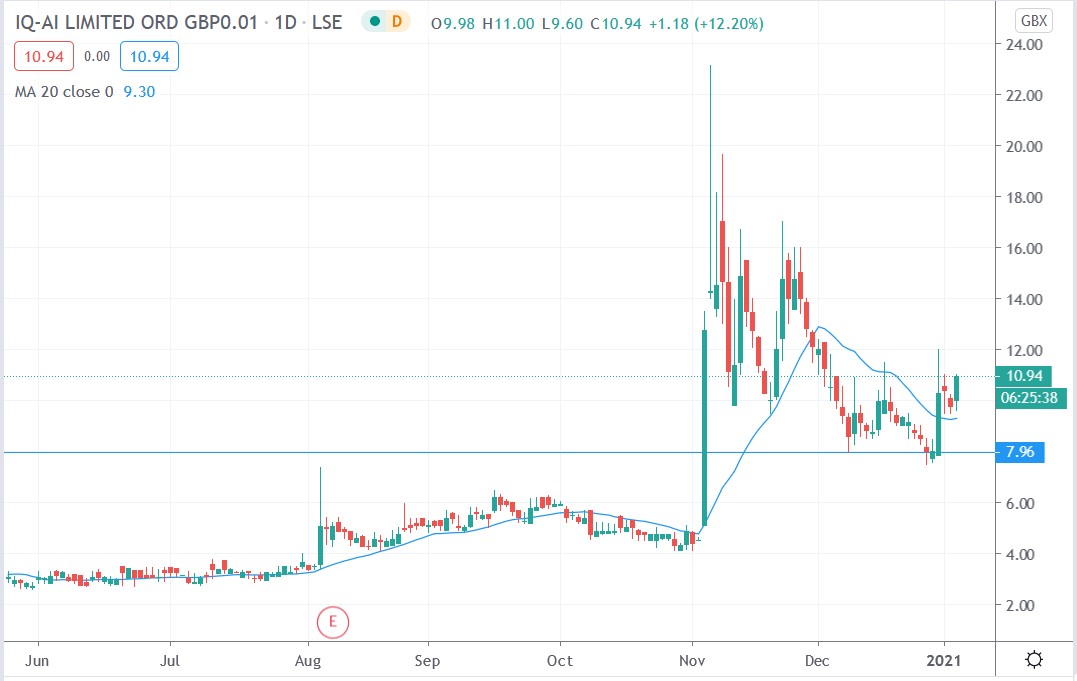 Today's IQ-AI shares rose 14.87% to trade at 11.20p having rallied from Tuesday's closing price of 9.74p.