Key points:
IroNet stock surged 28.7% on a multi-year contract with a GCC country.
Investors cheered the contracts, the biggest such contract in the GCC.
IronNet shares look cheap at current prices if it wins more contracts.
The Ironnet Inc (NYSE: IRNT) stock price surged 28.7% after revealing that a Gulf Cooperation Country (GCC) had signed a multi-year contract with the company to protect its most critical financial, governmental, and infrastructure organizations across the country from escalating cyber attacks.

Investors reacted positively to the news, as evidenced by the rally in Ironnet shares. The GCC country will be using IronNet's AI-based Network Detection and Response (NDR) solution combined with its Collective Defense platform.
The two systems will allow key ministers and government organizations to collaborate and monitor their defences against cyberattacks in real-time across key ministers and t quickly detect vulnerabilities in key government divisions.
The GCC country chose to remain anonymous to protect its agencies from being targeted by hackers looking to beat IronNet's systems installed in different countries and organizations.
General (Ret.) Keith Alexander, IronNet's Co-CEO and Founder, said: "We are proud to be recognized by this visionary GCC country for our Collective Defense platform, which enables anonymized, real-time collaboration and a more proactive approach to combating cyber adversaries,"
Adding:
"Enabling public-private partnerships is a critical part of helping this country strengthen their cybersecurity posture in the face of escalating cyber threats."
The IronNet Defence Collective uses Amazon Web Services (AWS) as the backbone to its AI-powered cyberattacks defence system. It is the first such system to use an automated solution to deliver threat knowledge and intelligence at machine speed across industries.
The company's platform analyzes all threats present across the entire community where it is deployed to identify the main attack patterns and sends anonymized intelligence to all community members in real-time.
Therefore, all members will receive early insight into the most likely attacks on the system. By working together, the cyber security teams can take measures to shore up their security and prevent future attacks.
By working in communities, cyber defenders can penetrate traditional silos, share intelligence, prioritize threat alerts, triangulate threats and consolidate resources against attacks targeted at critical infrastructure.
IronNet shares look attractive at current prices after falling 68.5% in the past year. However, the shares are up 11.4% in the past week and could be headed higher, making the company attractive to investors.
*This is not investment advice. Always do your due diligence before making investment decisions.
Ironnet stock price.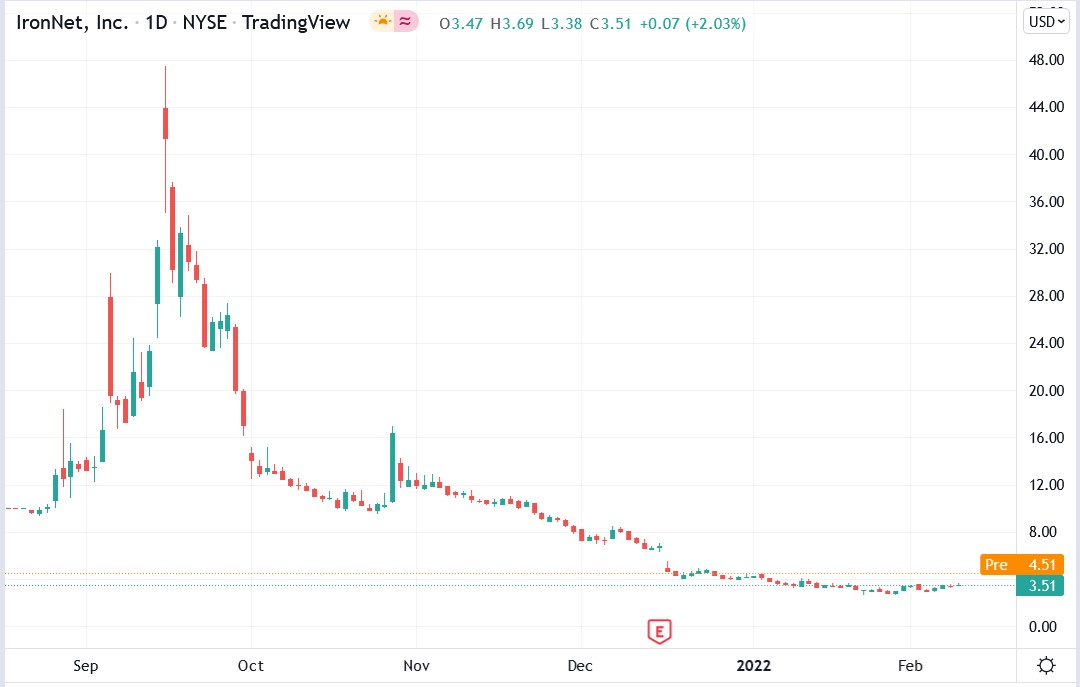 Ironnet stock surged 28.77% to trade at $4.52, rising from Wednesday's closing price of $3.51.