Key points:
Netflix stock has fallen 71.2% in 2022 but could have bottomed.
The stock is trading at a long-term support level that continues to hold.
The streaming service is weighing multiple options to boost revenues.
The Netflix Inc (NASDAQ: NFLX) stock price has fallen 71.23% in 2022 and could have recently bottomed after bouncing off the $164.31 support level twice in May and June. The global movie streaming company has faced significant challenges this year, key among them being losing subscribers.

Since its founding in August 1997, Netflix has been adding subscribers to its subscription-only movie streaming service for the past ten years, but the situation has changed drastically in 2022. The company lost 200,000 subscribers in Q1 2022 and predicts it will lose 2 million subscribers in Q2 2022, which is about to end.
The changing reality within the movie streaming industry is now very competitive as legacy media houses such as Disney, Universal, NBC, and HBO have launched streaming services to compete with Netflix. In addition, these companies focused on improving their streaming services during the pandemic-induced lockdowns of 2020.
The work done by the new streaming services to attract viewers is paying off as Netflix, once the only streaming service, and now regarded as an industry giant, is losing subscribers. Moreover, the situation will likely worsen due to the high cost of living, which has made most consumers reconsider their spending habits.
Many of Netflix's subscribers are also subscribers to other streaming services, which they might choose over Netflix when the time comes. Netflix has now been forced to consider ad-driven streaming services, which many of its competitors offer to increase its revenues and attract subscribers through lower-priced subscription packages.
The company is also embracing the pilot methods used by legacy media houses to gauge if a show will garner interest from viewers before ordering an entire series, something that the company eschewed since its beginning as it ordered most of its shows as entire series.
Netflix has also said that its paying subscribers will not be allowed to share passwords to encourage households that share passwords to get their own Netflix subscription. However, the company is yet to implement this measure, which could lead to further subscriber losses as current viewers protest such a measure.
Finally, Netflix has multiple options that it could explore when it comes to adding revenue sources, but it remains to be seen which options it shall implement. Meanwhile, there is hope that NFLX shares will rally from current levels, given that they have bounced off long-term support.
*This is not investment advice. Always do your due diligence before making investment decisions.
Netflix stock price.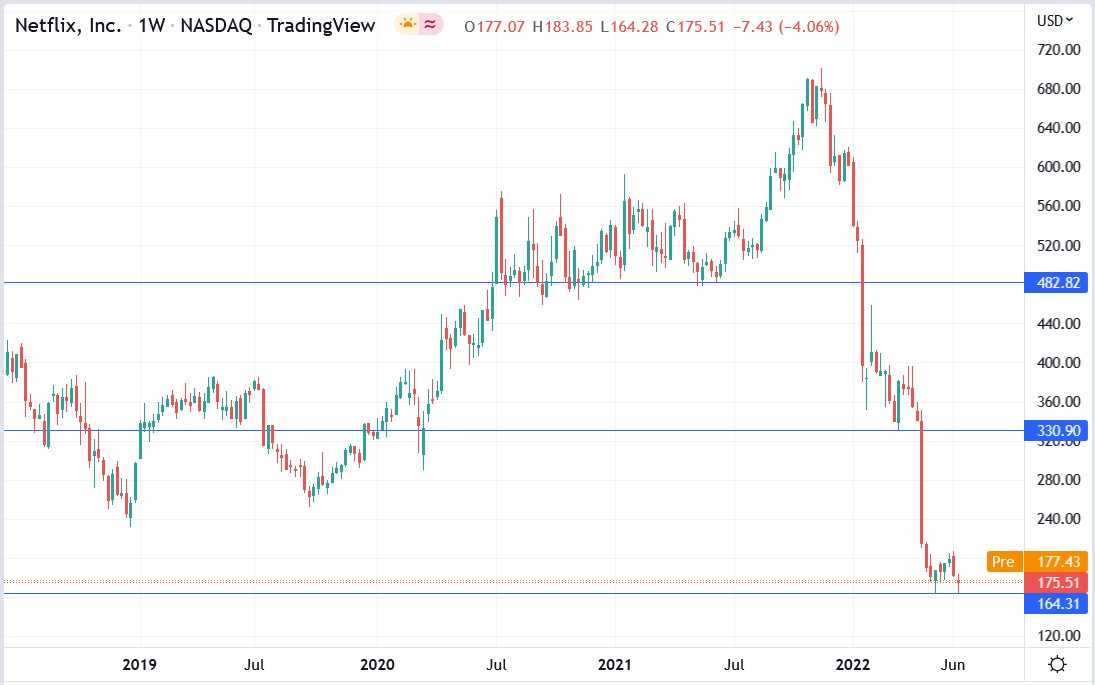 The Netflix stock price has fallen 71.23% in 2022 but seems to have found a floor for now.