Key points:
Joules Group is down another 30% this morning
The trading update, to be polite, was not good
JOUL really now depends upon that potential relationship with Next
It's possible to think that Joules Group (LON: JOUL) is entirely borked as concerns shareholder value. For there's an interesting little effect of the talks that they're having with Next (LON: NXT). Which is that if Next does come in as an investor they've said that the amount would be around the £15 million mark. The problem with this being that the Joules market capitalisation is rapidly approaching that number from the higher side. So, if it's £15 million in new capital that's needed then there's not a huge amount of room left for current shareholders. Of course, this is overdoing things, looking at it this way currently but who knows how bad things might get?

Joules shares are down 90% over the past 12 months and that includes the 30% fall today. They're now back down to where they were a few weeks back, before Next revealed an interest in investing – maybe, possibly. The cause of this latest fall is the trading update released this morning. The retail market as a whole has been weak – so Joules says, although it might be specific to Joules of course – and that has meant having to discount goods to get them off the shelves. It's always possible to think the worst of retailers, and think that slow sales are, in fact, the result of having the wrong things on the shelves in the first place.
But as they say, sales are going to be down: "an 8% year-on-year reduction in retail sales" and also "Retail margins in the year to date have declined by c.6%pts year-on-year". Given that inflation is 10% and change, an 8% fall in nominal sales really just isn't a good result.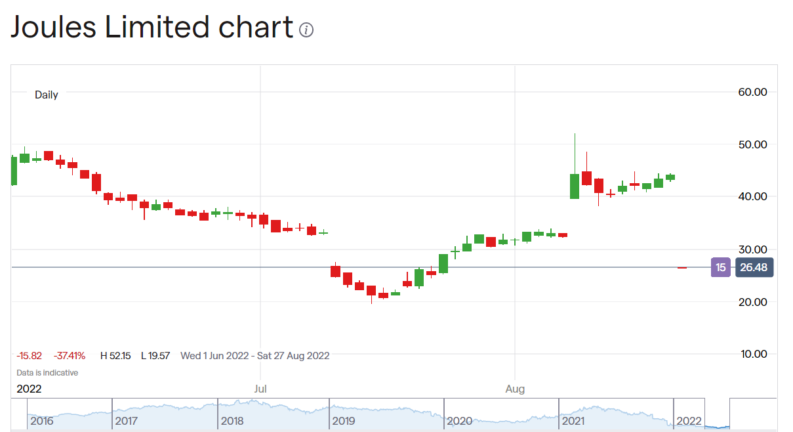 Also Read: Investing in Stocks in the UK – a Step by Step Guide
But the trading results are down – and with inflation, worse than it looks – and there's interest in how much working capital the Joules Group has. They say that the bank is being supportive at peak capital demand. OK. But the big issue here is that Next has expressed an interest in buying into the group. Which is fine – slightly tattered retailer gets investment.
But as we noted before, there's not much equity in Joules Group. The sort of investment being talked about is £15 million. That's what was thought to be necessary a few weeks back, before these trading results, to provide enough working capital to support both the business and any lending. We might think that number has increased since then. But that's getting close to 50% of the market capitalisation – meaning that there would be significant dilution if Next came in at something close to current prices in that volume.
And, of course, it's entirely possible for Joules Group shares to fall even further – we might even think that it's the interest from Next which is supporting the current valuation in fact. So, if they decide to negotiate hard we might well see a further fall.
The basic insight is that Joules is not in a good place. It now all becomes something of a speculation on that relationship with Next.