Key points:
Kanabo shares have fallen 52.7% in 2022, but have they bottomed?
The shares may be ready to rally after forming a bottoming pattern.
The cannabis company is making progress on multiple fronts.
The Kanabo Group PLC (LON: KNB) share price has fallen by 52.7% in 2022 but seems to have bottomed earlier this month. So should investors buy them in anticipation of a rally?

The massive drop in Kanabo's share price is symptomatic of the broader selloff in the cannabis industry as investors divest from growth stocks to value stocks in a cyclical market rotation.
Despite the recent selloff in Kanabo's share price, the cannabis company is one of the few such companies with a legitimate advantage over its peers, focusing on the medical cannabis market.
The company's VapePod product uses industry-leading technology to help patients get the exact dose of medical cannabis recommended by the doctor.
Kanabo has been making progress on different fronts, including the recent signing of a Memorandum of Understanding (MoU) with Forbe Ltd to sell CBD products in its home market of Israel.
The deal will see Kanabo procure and process CBD products that will then be sold by Forbe Ltd based on the agreed terms. Forbe Ltd counts the two largest national health providers in Israel as its customers, and one can expect them to be a significant market for CBD products.
Kanabo manufactures medical-grade cannabis that healthcare providers can use as prescription medicines. The CBD products can be delivered via its VapePod device.
The medical company is looking to capitalise on the improving regulatory environment in Israel towards cannabis products. Since the partnership was announced, Kanabo shares stopped falling and rose briefly.
However, the company's shares have been trading sideways for the past few days, which could preclude a much bigger rally. Still, there are no guarantees in the markets, and a break below the 5.59p support level would pave the way for a bigger selloff.
Kanabo today announced the appointment of Gil Efron to the Company's Board as a non-executive director, starting March 21, 2022. Gil will head the firm's audit committee replacing the current chairman of the committee, Uzi Danino, who is retiring.
Avihu Tamir, Kanabo's Founder and CEO, said: "We are delighted to welcome Gil to the board. His wealth of experience in the capital market will be an excellent addition to Kanabo's Board, as well as his vast business and financial management experience. The Board and I would like to thank Uzi for his tireless dedication in bringing Kanabo to the listed market in the UK. We have benefited greatly from his experience and counsel over the past 3.5 years and wish him well in all his future endeavours."
Kanabo shares look attractive at current prices to long term investors and short-term traders looking to ride a rally higher. However, a break lower will invalidate the bullish thesis.
*This is not investment advice. Always do your due diligence before making investment decisions.
Kanabo share price.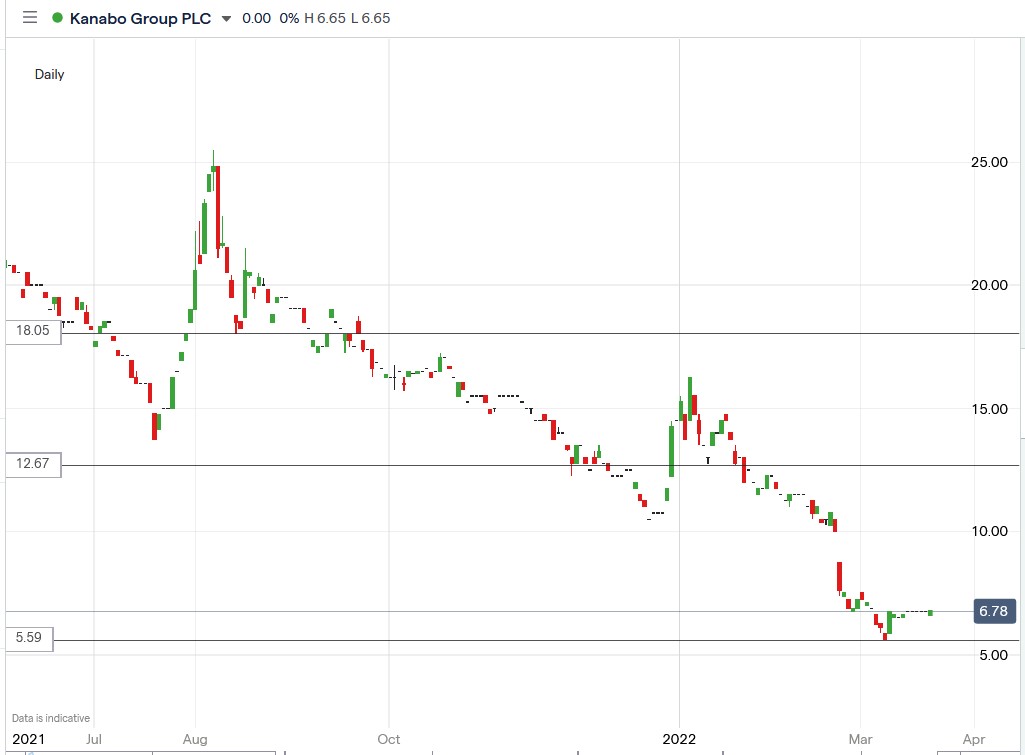 The Kanabo share price has fallen 52.68% in 2022. Have they bottomed?