Key points:
Li Auto stock fell despite the EV firm launching two new SUVs.
The Li L7 and L8 target families carrying five or six people.
Investors are waiting for the September and Q3 delivery numbers.
The Li Auto Inc (NASDAQ: LI) stock price fell slightly despite the Chinese EV manufacturer launching two new family-oriented SUVs, the Li L7 and L8. The company told investors that the two SUVs had over 100 features to ensure safety, comfort and smartness.

Investors ignored the launch as the Li Auto shares fell 4% during the Asian session before continuing the decline during the American premarket session.
Also read: The Best Electric Car Stocks To Buy.
Li Auto shares have fallen heavily since topping above $40 in early July. However, investors remained bearish about the outlook for Chinese EV manufacturers amid the rolling COVID19 lockdowns that have hampered production.
However, Li Auto is doing great production-wise as the company told investors that its Li L9 deliveries had exceeded 10,000 units in September, having commenced deliveries in August. As a result, investors are eagerly waiting for the EV company's September delivery numbers.
The company had initially planned to unveil a single model, the Li L8, which would have a six-seat configuration and a five-seat super-luxury configuration in November, but it brought forward the launch to today, September 30, 2022.
Investors adopted a wait-and-see approach toward Li Auto shares ahead of its September and Q3 vehicle delivery numbers after it released a delivery outlook saying that it expects to deliver 25,000 vehicles in Q3 on September 26, 2022.
The revised outlook was much lower than its initial estimates of delivering between 27,000 and 29,000 cars in Q3. The EV manufacturer attributed the lower production figures to supply chain constraints despite the robust demand for its vehicles.
Investors are waiting for the actual delivery numbers, but given that a production miss is already expected, we could see Li auto shares rally if the numbers are better than expected.
*This is not investment advice.
Li Auto stock price.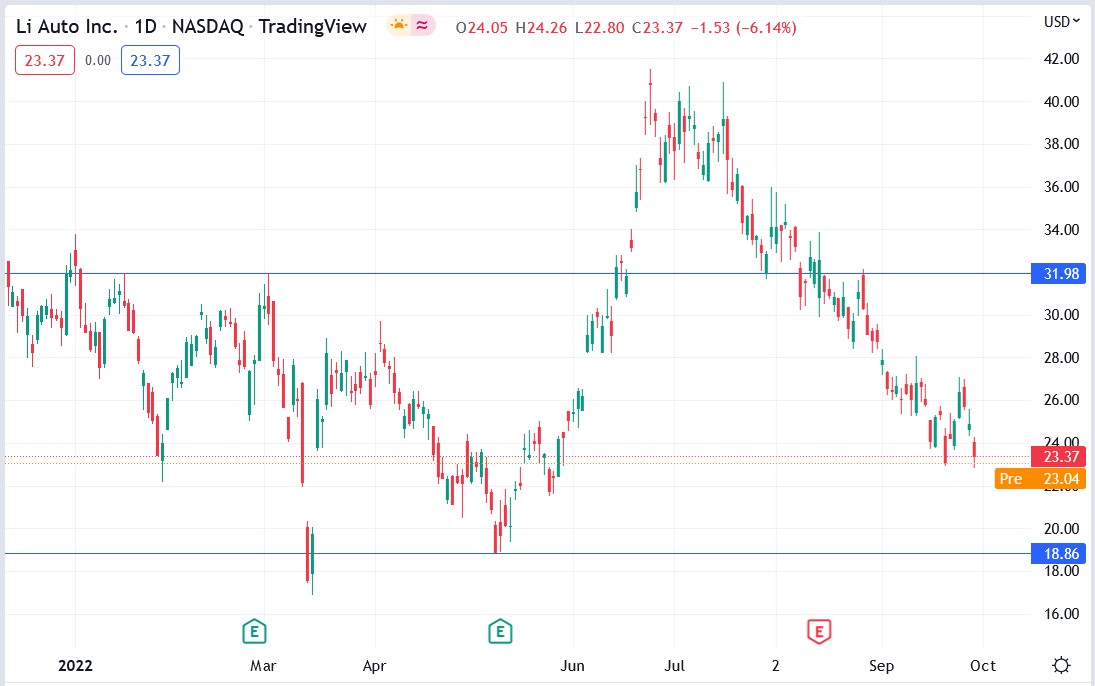 The Li Auto stock price fell 1.45% to trade at $23.03, from Thursday's closing price of $23.37.