Shares of British multinational retailer Marks & Spencer were down 2.37% on news that the firm was planning to announce hundreds of job cuts later this week. The stock hit a low of 96.20p before rebounding.

According to a report by Sky News, the high street retailer could fire hundreds of employees out of the 27,000 that were furloughed during the coronavirus lockdown period.
Many of the furloughed employees returned to work a month ago, but the retailer's CEO, Steve Rowe had warned that "While some customer habits will return to normal, others have changed forever. Most importantly, working habits have been transformed and we have discovered we can work in a faster, leaner and more effective way."
Marks & Spencer share price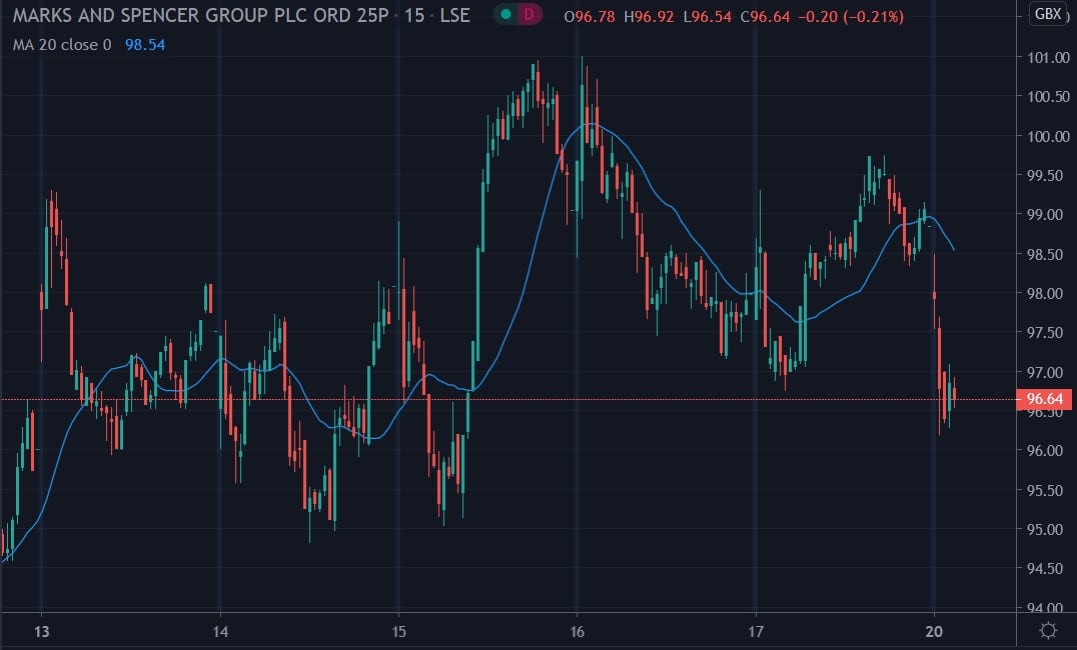 Many are expecting an official announcement within the course of this week given that may other high street retailers have announced similar job cuts.
Retailers such as John Lewis and Boots announced a combined 5,300 redundancies, while fashion retailer Ted Baker is set to shrink its workforce by 500.
The latest move reveals the negative impact of the coronavirus lockdown measures on British retailers.
UPDATE: Marks & Spencer has confirmed that 950 jobs are at risk.
Nigel Frith, one of the senior analysts at AskTraders had this to say regarding the news when talking to Wales online earlier today,
"Why has the coronavirus hit sales at M&S? It's a supermarket? People are looking for cheaper deals. More than one in four workers are furloughed, meaning that earning just 80% of their salary is enough for shoppers to look elsewhere, and although the food shops remained open for essential supplies, M&S's customers weren't purchasing items of clothing, therefore their clothing sales were down by 84% in May. Not to mention perhaps most of these existing customers were probably shielding, therefore unable to physically get into the store."
"M&S have their half-year trading results in November, so it will be a couple of months before we really get to see what damage COVID-19 has done to the brand."