Key points:
Marqeta (MQ) stock rallied higher after clinching a deal with Citi.
MQ shares have fallen heavily in 2022 and have formed a bottom.
I would monitor the stock for potential buys in the next few days.
The Marqeta Inc (NASDAQ: MQ) stock price rallied 5.14% higher after the company was chosen by Citi to power its mobile wallet product using its tokenisation functionality.

Marqeta was chosen to integrate into Citi's commercial cards to allow corporate clients to provide corporate plastic cards and virtual cards on the bank's existing platform.
Citi is looking to offer more functionalities to its corporate clients, allowing them to manage their finances better and allocate financial resources to employees on the move.
The bank is also looking to tap into the growing popularity of mobile wallets and digital payments, given that the two were the most popular payment methods globally in 2020.
Gonca Latif-Schmitt, global head, Citi Commercial Cards, said: "This offering will give our corporate clients a convenient way to instantly provision a card into their mobile wallet of choice to pay seamlessly and securely on the go. Marqeta's tokenisation services will be implemented globally in over 40 markets."
Marqeta shares did not move as much as we expected after the announcement, maybe because Citi will only use the tokenisation functions. It is not yet clear exactly how much the deal is worth to the company.
Citi shares were up 3% at writing, showing that investors in both companies did not regard the deal as a significant move for the two firms given the market's lacklustre reaction.
Meanwhile, Maerqeta shares have fallen 43.3% in 2022 and are 63.9% in the past six months, so many investors were hoping that today's announcements would move the needle significantly on the company's share price.
Despite today's deal with Citi having a small impact on MQ stock, its shares have formed a decent bottoming pattern that could translate into a rally phase if it holds over the coming days.
I would watch MQ to see if a rally materialises, validating the bottoming pattern.
However, a move lower would indicate that the bears are still in control, and I would step away from Marqeta shares.
*This is not investment advice. Always do your due diligence before making investment decisions.
Marqeta stock price.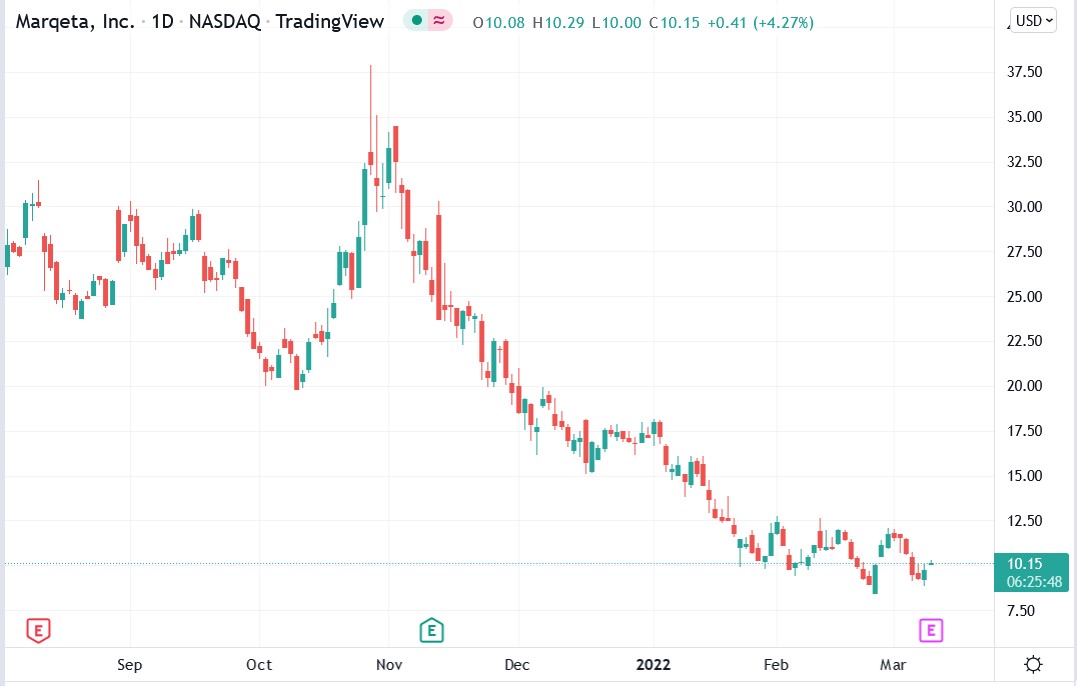 Marqeta's stock price was up 5.14% to trade at $10.23, rising from Tuesday's closing price of $9.73.