Shares of Mediazest Plc  (LON: MDZ) soared 88.9% after the audio-visual company revealed that it continues to win new contracts at a healthy rate after securing new orders worth over £250,000.
The company also noted that it was currently negotiating contracts a similar amount. It is in the final stages of the negotiations before signing the relevant contracts for the new projects.
While the company has already completed a portion of the contracted projects, it expects to deliver most of its contractual obligations in the second half of its current financial year ending 31 September 2021.
Mediazest is a company that provides both technical and creative audio-visual solutions to its clients. The company creates specific solutions tailored to each location and uses various technologies to enhance venues, engage and attract consumers to their client's benefit.
The company works across all aspects of the audio-visual process, including Content creation, System Design and Specification, Sales and Marketing, Management, Technical Support, Engineering, Analytics, Design Documentation, Maintenance, Installation, Finance and Administration.
Geoff Robertson, the CEO, commented: "We have seen a marked increase in new business opportunities since the beginning of the calendar year, and the Board is pleased with the rate at which these opportunities are being converted into orders."
Adding:
"Although some uncertainty remains, primarily due to the ongoing impact of Covid-19, the outlook for the second half of the financial year is promising, and we look forward to updating our shareholders further in due course."
Mediazest Plc share price.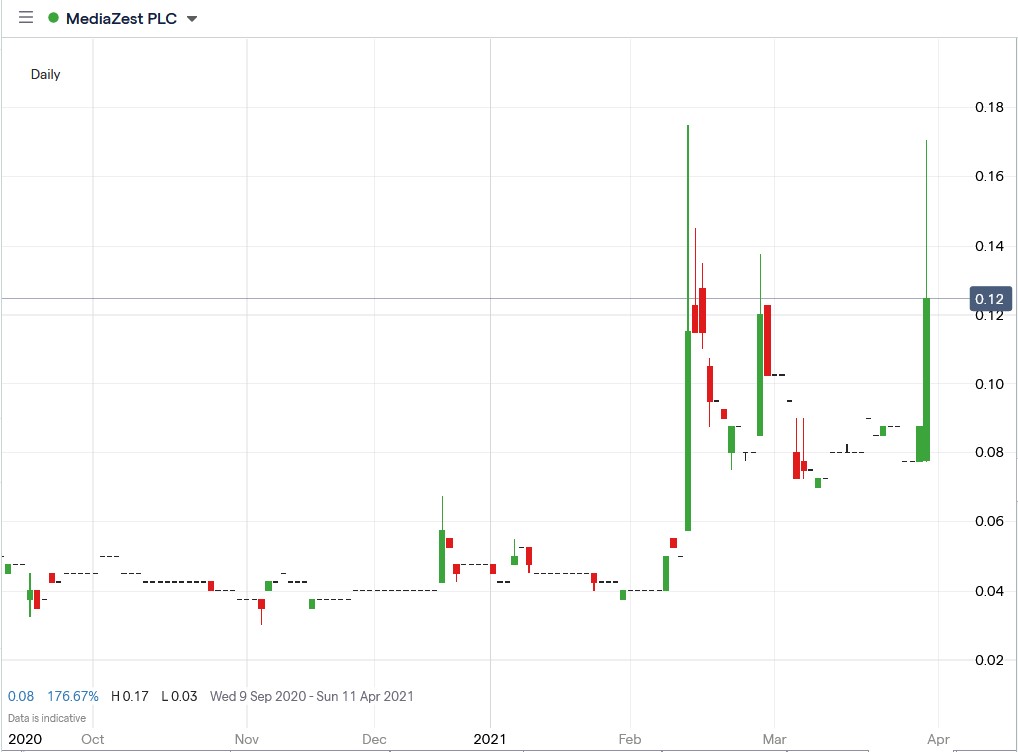 Mediazest shares soared 88.89% to trade at 0.17p after rising from Monday's closing price of 0.09p.