Shares of Meggitt plc (LON: MGGT) rallied 12.17% on rumours that American manufacturing firm Woodward Inc. (NASDAQ: WWD) was looking to acquire the company.
The rumours were not confirmed by either company but triggered the rally as investors cheered the possible acquisition of Meggitt.
Meggitt recently reported a 29% in Q1 revenues driven by the impact of the coronavirus pandemic lockdowns on the civil aviation market.

The aviation company expects its revenues to be in line with 2020 figures if there are no further travel restrictions this year, allowing international travel to resume on a broader scale.
The firm reported a £314.2 million loss during the 2020 financial year compared to the £222.6 million profit recorded in 2019 after revenues fell to £1.68 billion compared to 2019 revenues worth £2.28 billion.
Meggitt expects the growth witnessed in the second half of 2020 to be repeated this year. The firm also intends to lower its costs, minimising the losses made if revenues remain the same as last year or higher.
The company is currently in talks with its shareholder after a significant section of them rejected its remuneration policy. Another group of shareholders rejected a motion allotting shares during its April annual general meeting (AGM).
Meggitt noted that the original equipment and aftermarket revenues from its civil aviation division fell 46%. Its business jet revenues were down 24%, which was better than the large and regional jets revenues, which fell 53% and 51%, respectively.
The aviation company's defence revenues fell 10%, which was the smallest percentage decline of its business division, showing the stable nature of defence contracts.
Meggitt share price.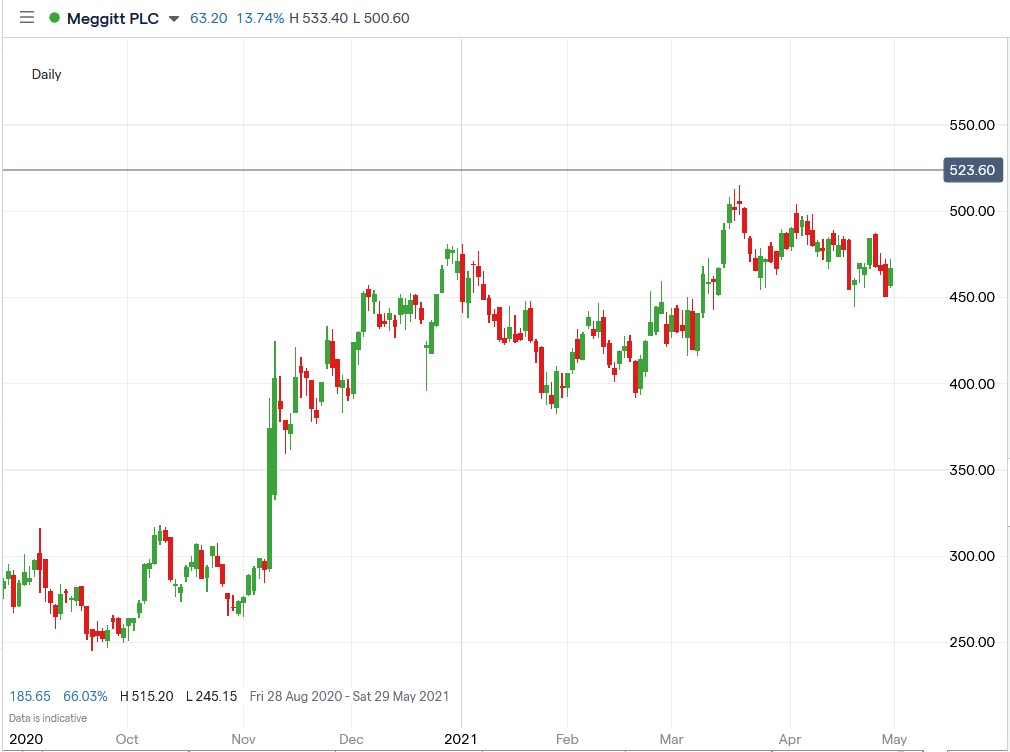 Meggitt shares rallied 12.17% to trade at 523.6p rising from Thursday's closing price of 466.8p.
Should You Invest in Meggitt Shares?
One of the most frequently asked questions we receive is, "what stocks are best to buy right now?" It's a wide-ranging question, but one that we have answered… Our AskTraders stock analysts regularly review the market and compile a list of which companies you should be adding to your portfolio, including short and longer-term positions. Here are the best stocks to buy right now