Key points:
MGC Pharma shares surged 15.3% on an impressive operations update.
The company has achieved multiple significant milestones this year.
Investors cheered the achievements. Are MGC Pharma shares a buy?
The MGC Pharmaceuticals Ltd (LON: MXC) share price surged 15.3% after announcing that it had completed the upgrade of its GMP-certified production facility in Slovenia. The company also noted that the facility's re-certification would be completed in November this year.

The EU-based biopharma company also revealed that the audit of its GMP facility located in Malta was on track to be completed in early 2023. At that point, the company would have two efficient GMP-certified production facilities within the EU.
Also read: Best US Stocks To Buy Right Now From The UK.
MGC Pharma further noted that it had expanded its distribution partnership with Sciensus Rare Supply to other markets in Central and Eastern Europe, the Middle East, and North Africa.
The expanded partnership will allow MGC Pharma to deliver its proprietary IMP products CannEpil® and CogniCann® to the new markets to help treat patients with severe medical needs.
MGC further noted that its US-based distribution and marketing partner, AMC Holdings, has amended the terms of its $1 million order for ArtemiC™ Rescue, which it now wants to be delivered in one shipment of 50,000 units instead of via multiple shipments due to the high demand witnessed in the US market.
MGC Pharma is fast-tracking the production and delivery of the 50,000 units at its two GMP-certified facilities that have almost completed the certification process. The biopharma company also revealed that several distribution partners had inspected its production facilities to ensure they meet their quality standards.
The suppliers will now be able to take orders of products manufactured at either facility and distribute them in their respective territories. Investors cheered the developments, as evidenced by the rally in MG Pharma shares.
 Roby Zomer, MGC Pharma's Managing Director and CEO, commented: "Following the completion of the GMP and customer audit of the Company's Slovenian GMP Production facility… MGC Pharma is extremely well placed to deliver its products across both the EU and globally to meet increasing demand."
So, would I buy MGC Pharma shares? The short answer is yes. MXC shares have fallen 62.2% YTD and could head higher as it continues delivering orders of its products, which are in high demand.
*This is not investment advice.
MGC Pharma share price.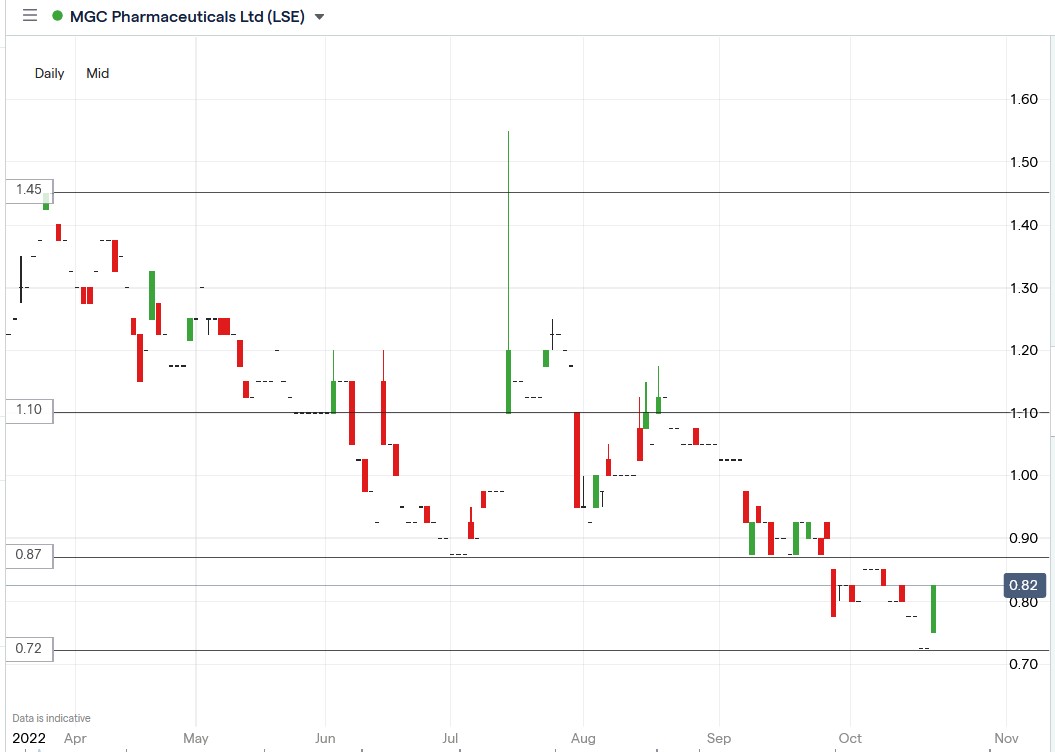 The MGC Pharmaceuticals share price surged 15.28% to trade at 0.83p, rising from Wednesday's closing price of 0.72p.