Key points:
MGC Pharmaceuticals (MXC) shares surged 7.5% on its quarterly update.
Investors cheered the update, which showed the company's progress.
The company is on the right track but is it a buy? Read on to find out.
The MGC Pharmaceuticals Ltd (LON: MXC) share price surged 7.5% after its June operations update, highlighting the solid progress made in its clinical pipeline after completing several clinical trials for its CogniCann® and CimetrA™lead products with positive results.

The company also noted that it had generated revenues worth A$1.55 million in cash during the quarter bringing its revenues for the 2022 financial year to A$6.1 million, representing a 134% improvement to fiscal 2021 figures.
Also read: Five Best Pharmaceutical Stocks To Watch In 2022.
MGC pharma implemented a cost-cutting program in June, which lowered its R&D costs after it deferred future trials unrelated to its core assets. The company also inked various partnerships to help it advance its clinical pipeline in some crucial geographical regions.
Investors cheered the quarterly results and operations updated, as evidenced by the rally in MGC Pharma stocks. However, many hope today's rally will lead to a sustained rally over the coming days and weeks.
MXC shares have fallen 36.14% this year but have recently bottomed and are up 35.79% in the past month after buyers stepped up, pushing prices higher.  Earlier this month, MGC Pharmaceuticals reported positive results from a clinical trial of its ArtemiC Support® proprietary drug as a treatment for Long COVID symptoms.
Investors cheered the clinical trial results, as reflected in the 47%+ rally in MXC shares following the announcement. The stock later gave up most of its gains by the end of the day but had been inching higher since then.
Roby Zomer, MGC Pharmaceuticals co-founder and Managing Director, commented: "MGC Pharma remains resolutely focused on advancing its innovative products through the clinical pipeline of product development and continues to progress a number of products towards regulatory approval. This has been supported by strong clinical trial results and partnerships with companies such as Sciensus Rare and AMC Holdings that will help us achieve our goals."
He further warned that getting drugs through the regulatory approval process is long and tedious, especially when the products include phytocannabinoids. However, he expressed confidence that he and his team shall get their drugs approved to treat patients with debilitating conditions.
*This is not investment advice. Always do your due diligence before making investment decisions.
MGC Pharmaceuticals share price.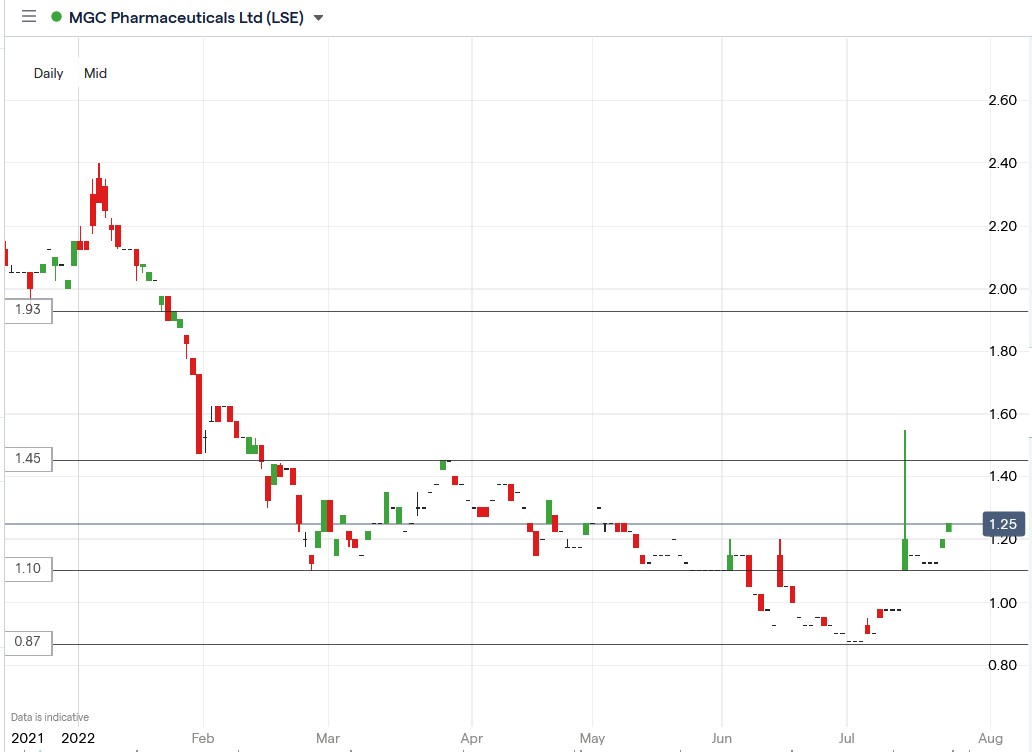 The MGC Pharma share price surged 7.50% to trade at 1.290p, rising from Friday's closing price of 1.20p.