Key points:
Thor mining shares spiked 13.4% higher on sampling results.
The sampling results uncovered gold and copper deposits.
As a result, THR shares look pretty attractive at current prices.
The Thor Mining Plc (LON: THR) share price spiked 13.4% higher after reporting positive results during the recent sampling and mapping programs completed at the company's Ragged Range project.

Investors cheered the sampling process results, which typically takes place close to the surface, yet the process uncovered 6g/t Au in rock chip, while another sample returned up to 1.46g/t of gold and 4.8% of copper.
Also read: The Five Best Gold and Gold Mining Stocks To Buy Now.
While the figures returned by the sampling process may seem relatively low compared to high-grade gold intercepts discovered elsewhere in Australia, one must factor in that the results were from a sampling process, not a drilling process.
The gold and copper deposits were discovered along newly identified cross structures at the Norman Cairn Fault – between the Dalton Suite and Euro Basalts, and at the contact of Euro Basalt and Boobina Porphyry.
The mining company further added that it had recently received all the samples from the reverse circulation (RC) drilling program completed and had forwarded them to the laboratory. The firm is now waiting to receive the assay results.
Nicole Galloway Warland, Managing Director of Thor Mining, commented: "These latest highly encouraging sampling results, including high-grade copper and gold, from three consecutive programs at Ragged Range, continue to build on and develop our geological understanding, with particular emphasis on structural controls on mineralisation at both the Sterling gold prospect and Kelly's copper-gold prospect."
Adding:
"Sampling is to continue with an airborne magnetic survey over Kelly's copper-gold prospect and the north-eastern portion of the tenure scheduled for late July, to assist with lithological and structural interpretations."
Thor Mining shares are down 15.22% in 2022 but have recently bottomed at the 0.450p long-term support level. As a result, the mining company's shares look pretty attractive at the current price, especially to long-term investors.
So, should you buy THR shares? Of course, the answer depends on your investment goals and current situation, but I would consider buying the shares.
*This is not investment advice. Always do your due diligence before making investment decisions.
Thor Mining share price.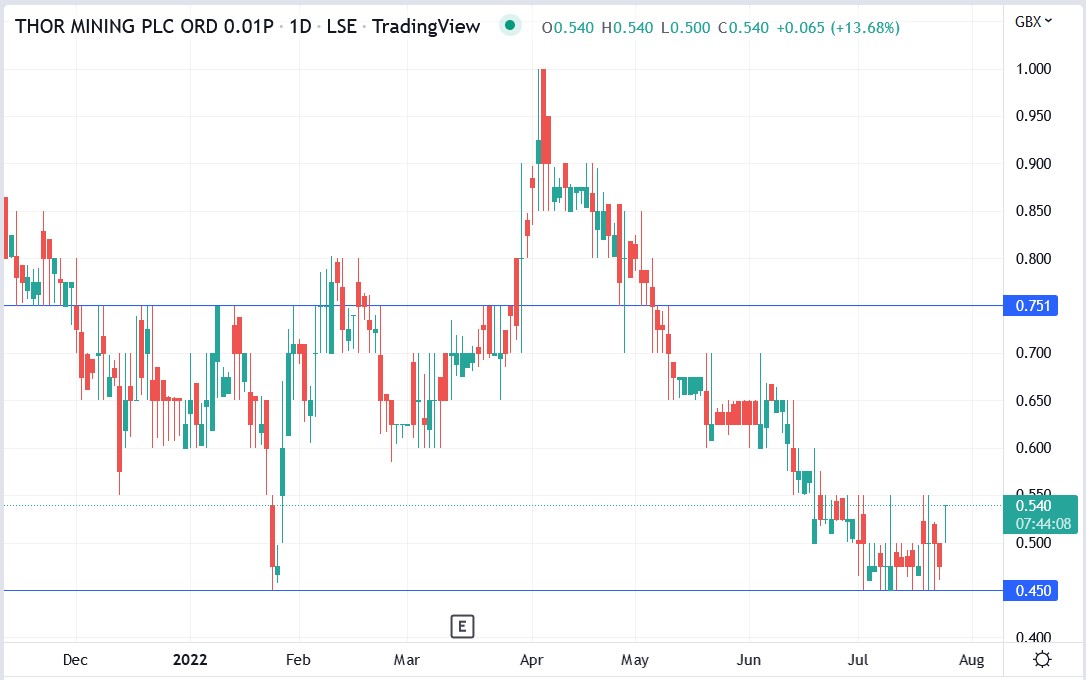 The Thor Mining share price spiked 13.4% higher to trade at 0.540p, rising from Friday's closing price of 0.475p.