Key points:
The MOB crypto price soared by 115.5% after being listed on Binance today.
Mobilecoin has unique features that make it stand out in the crowded industry.
Investors hope that today's rally shall translate into a sustained rally.
Today, the MobileCoin crypto price surged 115.5% after Binance announced that the coin would be available for trading on its platform at 10:00 UTC today.

Investors cheered the announcement to make MobileCoin available to the millions of crypto investors who use the platform, exposing it to a larger liquidity pool than before its listing.
The markets' reaction to MobileCoin's listing is not unique. We have seen many cases where crypto prices skyrocket after listing on a major crypto exchange such as Binance and Coinbase.
Those unfamiliar with MobileCoin should know that it is a project dedicated to facilitating safe and easy payments at light speed. The project was launched in December 2020 by Josh Goldbard and Shane Glynn via their company MobileCoin Inc, which was responsible for developing the coin.
The project has positioned itself as the first carbon-negative crypto driven by its network consensus model known as the Federated Byzantine Agreement (FBA). It is extremely energy efficient and consumes less energy than proof of work and proof of stake to verify transactions.
MobileCoin was launched when many questions arose about the impact of the cryptocurrency industry on the environment and the amount of electricity used by crypto mining activities.
For example, global Bitcoin mining activities are estimated to consume 128 billion kWh per year, enough electricity to power Argentina's entire economy for a year. On the other hand, MobileCoin's FBA consensus model uses minimal power. In addition, the company behind the project has other carbon offsetting measures that have led to the project being carbon negative.
The project also boasts of almost instantaneous transactions at meager costs. In addition, MOB's ledger is opaque in that outsiders cannot view your transactions, which is a highly desirable feature for people who value their privacy.
The problem with most blockchain networks is that all transactions on the blockchain can be viewed by the public, which means that everyone can see what you bought, sold or sent via the network.
Given its lofty promises, MobileCoin's future looks promising as people become aware of its revolutionary features, including an opaque ledger and its carbon-negative footprint.
*This is not investment advice. Always do your due diligence before making investment decisions.
Mob crypto price.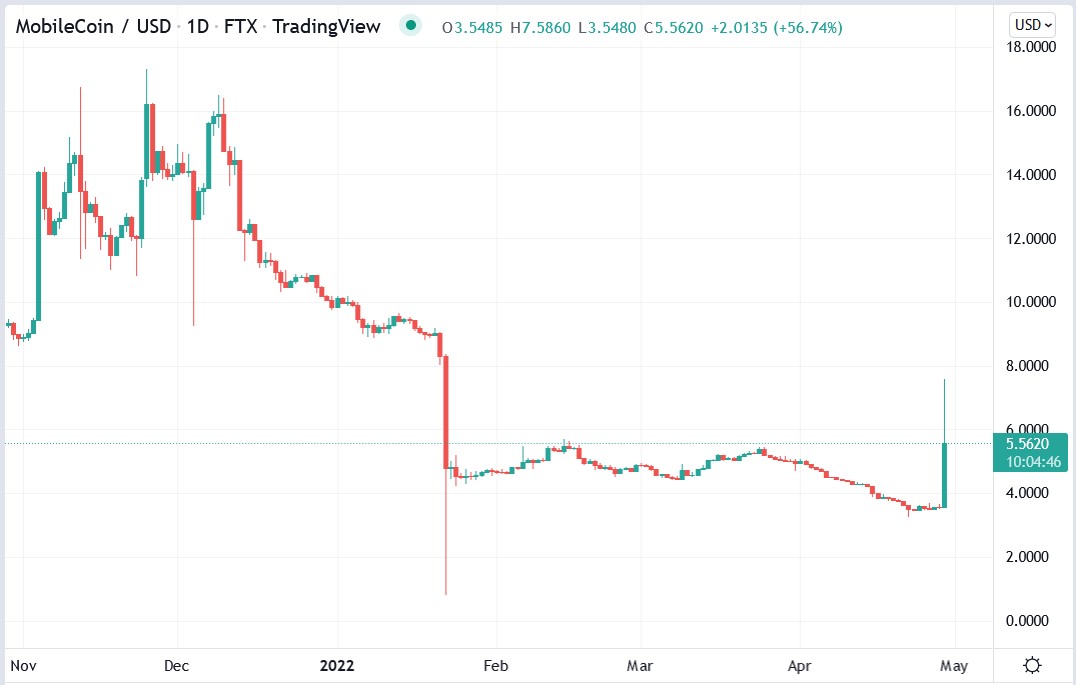 Mob crypto price soared 115.55% today to trade at $7.5885, rising from its opening price of $3.5870.