Key points:
Steem crypto surged 90% in the last 24 hours on the Binance listing.
The move was expected since it happens to all newly-listed cryptos.
Investors are hopeful that the token will trade back above $1.
The Steem crypto price surged 90% in the past 24 hours after the coin was listed on Binance. The move is part of a trend witnessed in most cryptos after their listing on leading exchanges such as Binance.

Steem is the token for the blockchain that powers the Steemit community platform that rewards users for their posts. The social media platform was billed as the next significant evolution of social media away from large centralised platforms. However, this is yet to happen.
The blockchain platform uses a Delegated Proof of Stake system to create blocks and uses witnesses instead of miners to validate blocks. Unlike most blockchain networks, witnesses are awarded 10% of the new coins created, while content creators and producers get the remaining 90%.
The Steem blockchain was created in 2016 by Ned Scott and Daniel Larimer, an experienced blockchain developer who designed the entire platform. Steemit rewards users who create content that garners significant upvotes and rewards users who vote on content.
Steem price prediction
The Steem price has not had an easy time, having traded at a high of $10.16 in late January 2018 and fallen to its current lows below $1, having lost over 90% of its value in the past few years. Many investors hope that Steem will rise and start trading above $1 soon.
Steem users who engage in discussions on the content created and vote on the popular ideas discussed on the platform are rewarded with STEEM tokens that they can sell to generate an income.
The platform's main idea is to reward social media users and give them control over their data. Steem's business model goes against the approach taken by most leading social media platforms that keep their users' data and monetize it for a profit.
Social media giants such as Meta Platforms, which owns Facebook, Instagram, and Whatsapp, do not reward their users, claiming that the free access to the platform is more than generous. By giving users free access to their platforms, social media giants collect sure personal data and sell it to the highest bidder to generate revenues from advertisers.
Steem shares are currently trading at the 0.525 support zone, which could hold, triggering another attempt at breaking the 0.732 resistance level. However, the crypto has to reclaim its recent highs of 0.672 before breaching the 0.732 level.
A break below the 0.525 support level would bring the 0.427 support level into play, after which the next critical support level is found at the 0.281 support level.
*This is not investment advice. Always do your due diligence before making investment decisions.
Steem Crypto price.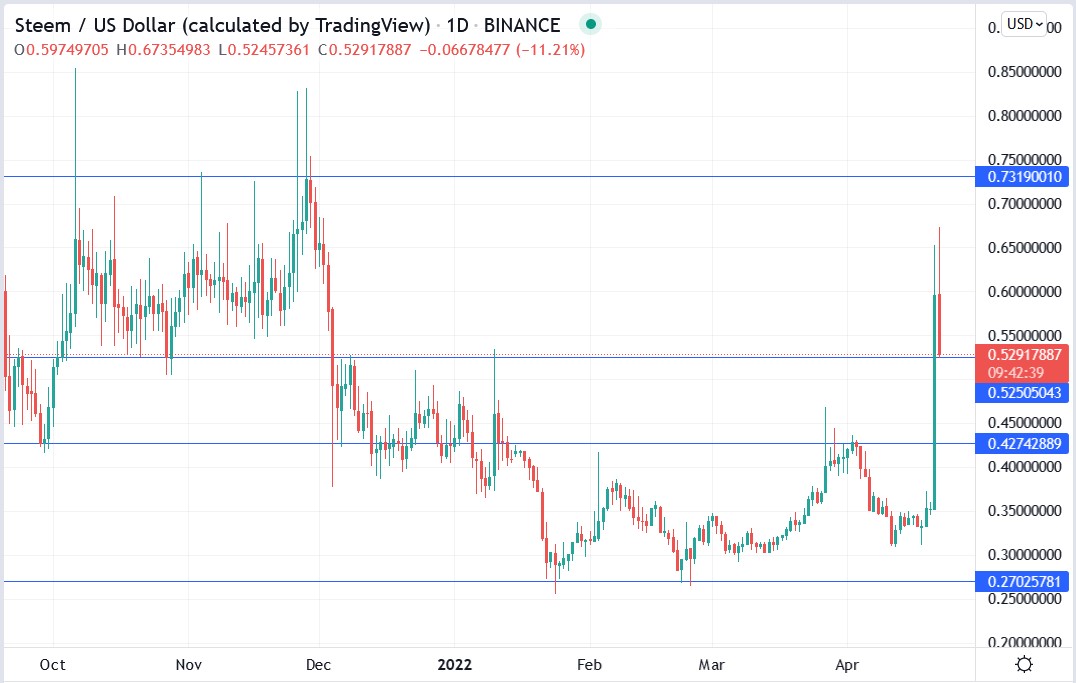 Steem shares rallied from an opening low of 0.3527 to a high of 0.6721, representing a 90.6% gain, but have since pulled back.