Key points:
Moderna (MRNA) stock has risen 17% in a week. Will it continue?
The rally occurred at a crucial support zone; hence, it could persist.
However, we could get a pullback before the rally continues.
The Moderna Inc (NASDAQ: MRNA) stock price has risen 17% in the past week despite multiple headlines surrounding the effectiveness of its vaccines. Recent data shows that the new bivalent COVID boost shots developed by the company and its peer Pfizer are not as effective as expected, according to a Bloomberg report.

The study by Researchers at the University of Michigan and Columbia University measured the levels of neutralizing antibodies in blood samples from 21 people who got a fourth shot of the Moderna or Pfizer-BioNTech SE bivalent boosters against antibody levels in 19 people who got four shots of the original vaccines.
Also read: The Five Best Pharmaceutical Stocks To Watch In 2022.
The results showed that people who received the new bivalent shots had similar titers of neutralizing antibodies as those injected with a fourth monovalent mRNA booster shot. The same conclusion was true for antibodies that protect against BA.4, BA.5 and older variants, such as the first omicron strain.
While the study does not say that the new shots are ineffective, it raises the question about the necessity of developing and switching people to the new shots, given that they have similar results to the original monovalent shots.
However, there is a caveat to the news: the study was conducted on a small number of people, given that the booster shots are targeted at millions. Therefore, the study will have to be expanded to a larger sample size before one can draw firm conclusions about the same.
Another argument posed by some experts is that the human body has the strongest memory of the very first vaccines, which explains why the impact of booster shots in preventing infection has been minimal compared to that of the first shots.
The news did not hurt Moderna shares, which have been rallying for the past six days after bouncing off a long-term support level. The rally has persisted despite the stock market oscillating between gains and losses.
So, will the rally in MRNA stock continue? The short answer is it could. However, we will likely get a pullback soon before the rally continues.
*This is not investment advice.
Moderna stock price.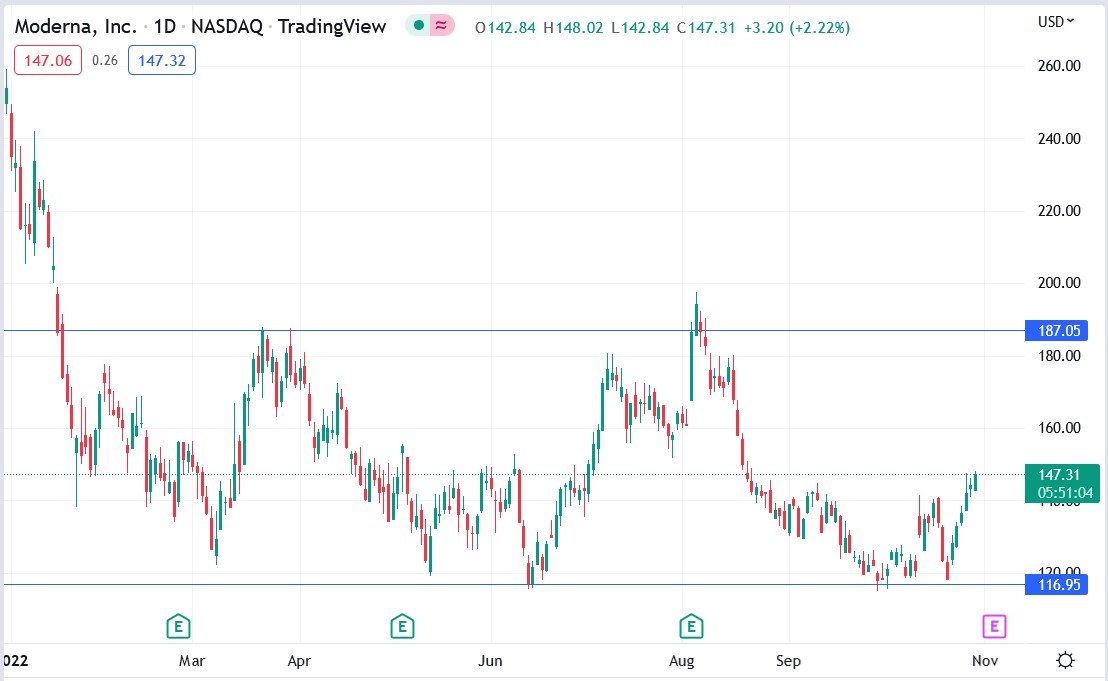 Moderna stock has risen 16.85% amid a broader stock market rally that has lifted all the lending indices.