Shares of Nanoco Group (LON: NANO) are flat on Tuesday after the company released its interim results for the half-year ended 31 January 2021.
Nanoco shares are trading at 22.65p, up 0.67% so far today.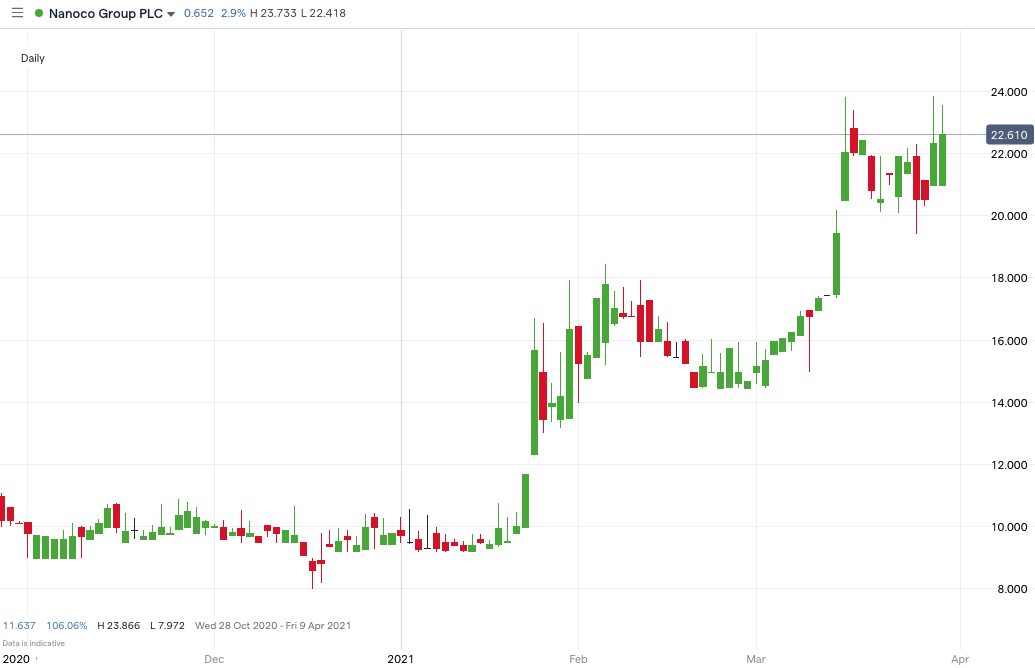 The company's revenue of £1 million for the period was below the £2.9 million reported during the same period the previous year, which was "largely due to final US Customer deliverables," the company said.
There was an increase in the company's adjusted LBITDA from a £1.1 million loss the previous year to a £1.5 million.
Nanoco also has a current average monthly cash burn of £0.4 million with a cash runway to H2 2022.
During the period, the company achieved all technical and commercial milestones, completed its business restructuring to reduce costs, and secured an Innovate UK grant of £0.8 million for research on a rapid diagnostic test platform for pathogens, including Covid-19.
Nanoco also announced that the trial for the alleged willful infringement of the group's IP by Samsung is set for October 2021.
The quantum dots developer filed a lawsuit against Samsung in the United States District Court for the Eastern District of Texas last month.
"Our lawsuit against Samsung for the alleged wilful infringement of Nanoco's IP is progressing well and we are pleased that a trial date has been set for October 2021," said Brian Tenner, CEO of Nanoco Group.
"We will review the final written report from the Judge presiding over the recent claim construction hearing when it becomes available. At this stage, we are pleased with the progress of the litigation process and the initial indications arising from the Markman hearing, adding to our confidence in the strength of our position.
"The Board strongly believes in the value that can be generated from our organic business. Moreover, although there can be no certainty as to the outcome, the Samsung litigation could result in a very substantial settlement in our favour. While there is much work to be done in the short term, the prospects are improving for significantly enhancing shareholder value in the medium term," continued Tenner.
Should You Invest in Nanoco Group Shares?
One of the most frequently asked questions we receive is, "what stocks are best to buy right now?" It's a wide-ranging question, but one that we have answered… Our AskTraders stock analysts regularly review the market and compile a list of which companies you should be adding to your portfolio, including short and longer-term positions. Here are the best stocks to buy right now