Key points:
Netflix share crashed 27% after losing 200,000 subscribers in Q1 2022.
Shocking investors, the firm expects to lose another 2 million subs in Q2.
Netflix's prospects seem quite gloomy; I would stay away from its shares.
The Netflix Inc (NASDAQ: NFLX) share price crashed 27% after the movie streaming company revealed that it lost 200,000 subscribers in the first quarter of 2022.

Investors reacted negatively to the headline numbers without examining the detailed report, which indicated that the deactivation of its services in Russia after the Ukraine invasion mainly drove the loss.
Netflix revealed that it lost 700,000 Russian customers after the Ukraine invasion and would have added 500,000 subscribers during the three months if its services were still available in Russia.
However, the company expects to lose 2 million subscribers in the second quarter from April to June, which lowered its share price. Nevertheless, many investors did not want to be left holding the bag as Netflix's future appears uncertain.
Netflix shares will have lost over 50% of their value this year, factoring in the latest decline as investors dump the stock expecting its business to remain under significant pressure.
Many were not convinced that Netflix would attract more subscribers once it implemented the proposed strategy to eliminate password sharing among different households.
The movie streaming company expects to add over 100 million subscribers using its services via password sharing. As a result, they might be willing to pay for the service if the password sharing capability is revoked.
Some analysts believe that the move to limit password sharing could alienate some of its customers as there are no guarantees that the affected households will now start paying for Netflix's services.
The company is currently running a test model of its future password sharing plan in Costa Rica, Peru and Chile, where subscribers can add other households for an additional fee. The trial has been running for a month.
What is interesting is that Netflix believes that around 30 million households sharing passwords are in the United States and Canada. Yet, these countries are not part of the trial program.
Netflix faces stiff competition in the US and Canada from other streaming services such as Disney+, Hulu, HBO Max, and Peacock. As a result, alienating its US and Canadian customers could result in a mass exodus to other streaming services.
However, Netflix enjoys a significant monopoly in other regions of the world, such as Africa and South America, where other US streaming services are yet to debut. As a result, the company expects most of its future growth to come from other regions outside North America and Europe.
Netflix shareholders have now lost over $150 billion in value since the year started, and there are no guarantees that the shares shall recoup their losses. Investors will remember Facebook's massive decline earlier this year; the company has struggled to reclaim its previous highs, which could happen to Netflix shares.
I wouldn't buy the shares at current prices, given the rising competition in the streaming services industry as other players eat into Netflix's market share, eroding its first-mover advantage.
*This is not investment advice. Always do your due diligence before making investment decisions.
Netflix stock price.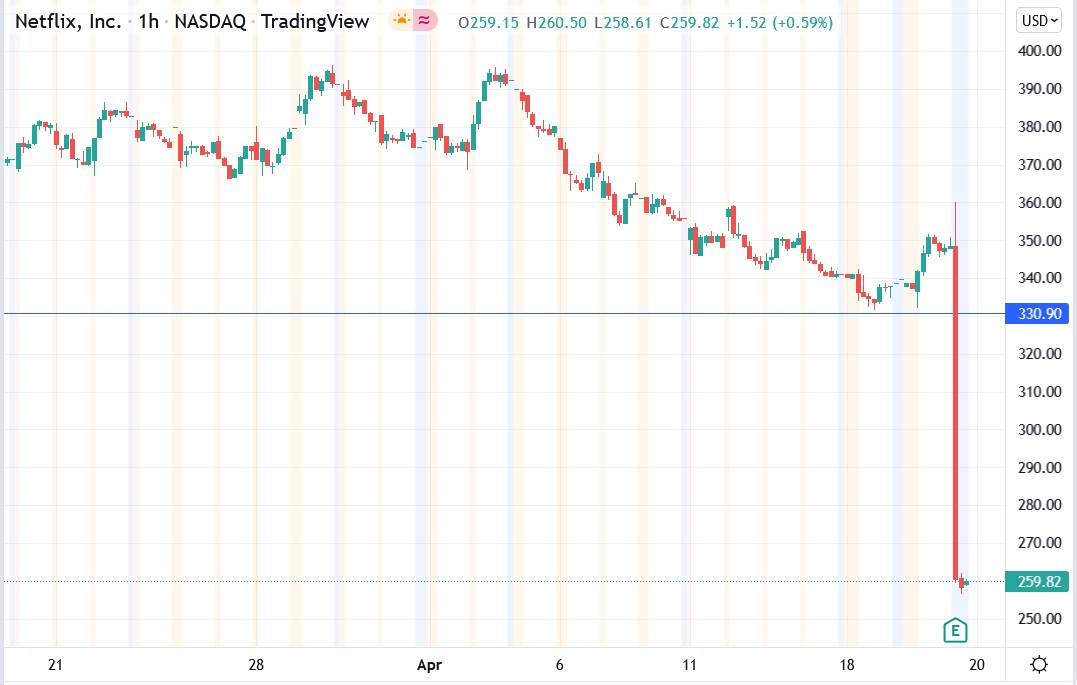 Netflix stock crashed about 27% premarket to trade at $254.50, falling from Tuesday's closing price of $348.61.