Key points:
Next said sales in the 13 weeks to October 29 were better than expected
The clothing retailer maintained full-year guidance
Next shares are up over 2% Wednesday
Next PLC (LON: NXT) shares rose Wednesday after the company reported a trading update, maintaining full-year guidance.

The clothing retailer told investors in its third-quarter trading statement that it expects full-year profit before tax at £840m, up +2.1% compared to last year, resulting in earnings per share of 554.5p, representing a 4.5%increase year-over-year.
The company's previous guidance for full-price sales for the rest of the year to be down 2% compared to last year was also maintained.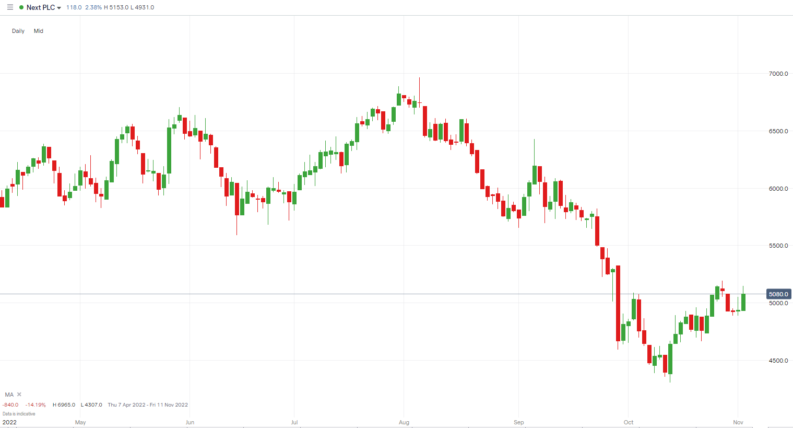 Also Read: The Best Clothing Stocks to Buy
Next also said that in the thirteen weeks to October 29, full-price sales rose 0.4% versus last year, slightly ahead of the company's expectations.
Meanwhile, Next's full-price sales in the last five weeks have increased by 1.4%, with the company saying the metric was boosted by one particularly strong week at the end of September when temperatures fell, and sales of heavier weight products improved as people prepared for a further decline in temperatures.
The relatively positive statement from the company has seen its shares rise early Wednesday. It hit a high of 5,148p per share at the open. At the time of writing, it is up 2.28% at 5,076p per share, although still down over 38% in 2022.