Key points:
Nine Energy stock rallied 96.1% amid surging crude oil prices.
US shale oil producers are ramping up production to meet high demand.
The firm supports shale oil producers and will benefit from new wells.
The Nine Energy Service Inc (NYSE: NINE) stock price rallied 96.1% during premarket trading despite the lack of news from the onshore completion and production services provider.

The company provides well completion services to US shale oil producers such as liner hangers and accessories, cementing services, frac sleeves, and other completion tools.
Nine Energy shares surged 42.8% on Friday and were up over 96% today, driven by the nursing US oil prices that have triggered a rally in the shares of oil production companies.
US shale oil producers are extremely sensitive to oil prices where they tend to make a fortune when oil prices surge while sinking into losses when oil prices fall below certain thresholds.
For example, many shale oil producers fall into loss-making territory when oil prices cross below the $50 mark. Luckily for shale producers, they can quickly ramp up production when oil prices surge, which they are currently doing since they use fracking.
My colleague, Tim Worstall, details how fracking could come back in the US as the Russia-Ukraine conflict deepens.
US shale oil producers will benefit immensely if the Biden administration decides to stop Russian oil imports and become wholly reliant on homegrown oil production.
The exclusion of Russia from the global energy arena will mean that for the very first time, the United States may become a net oil exporter driven by a surge in shale oil production due to the high oil prices.
The Biden administration is also keen to lower inflationary pressures on the American economy fueled by the rising global crude oil prices.
Luckily for shale oil producers, they can bring their wells online in a fraction of the time it takes for traditional oil producers to start generating oil from their wells.
Shale oil producers use fracking to drill their wells. However, they have faced significant pressure from environmental groups due to the massive pollution created by the fracking process and the large amounts of water used in fracking.
Still, the US has very few options regarding oil sources. Biden administration officials are even engaging with the Venezuelan government led by Nicolas Maduro to see if they can secure oil supplies from the country.
A move to ban Russian oil from the global markets would require other producers such as Venezuela to ramp up their production to fill the gap left by Russia, which is the world's third-largest oil producer.
Therefore, the Nine Energy share price could keep rising as global oil demand remains high and the Russia-Ukraine conflict continues.
*This is not investment advice. Always do your due diligence before making investment decisions.
Nine Energy share price.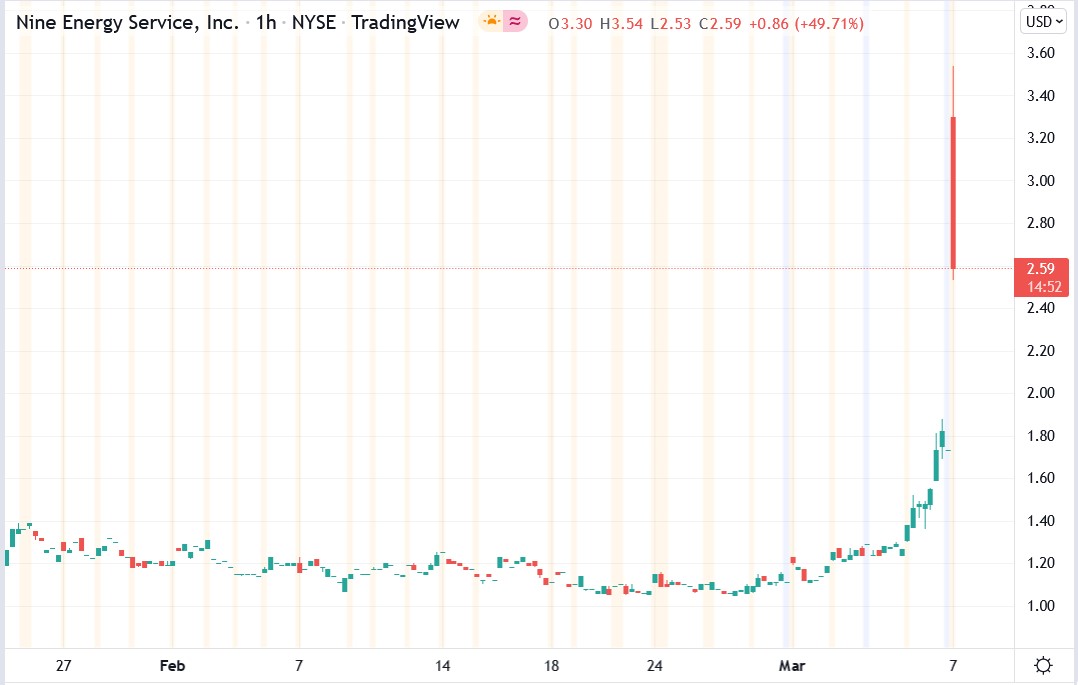 Nine Energy shares had risen 96.11% to trade at $3.53, rising from Friday's closing price of $1.80.