Key points:
ONS announces that retail sales fell by 0.5%
This puts pressure on full price and delivery retailers
Discounters and low margin stores are likely to pick up trade
Ocado (LON: OCDO) shares are down 2%, Tesco (LON: TSCO) shares up 1% as the Office for National Statistics announces retail sales for last month. By volume those retail sales are down 0.5% – which means that there's an assumption that there will be a continuing flight to cheaper food and retail options. That benefits the discounters and harms the full priced offerings out there.

Here's the chart of retail sales: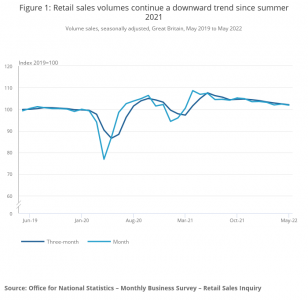 A fall of 0.5% might not seem like much but there are two further points to note here. One is that this is just for the month, so it does mean a change in peoples' activity. The other is that this is volume of sales, so it's not inflation adjusted. If we were to look at real terms then the fall would be larger.
The general assumption is that falling sales mean a flight to low margin products. This therefore benefits the discounters, Aldi, Lidl and so on. It's the higher margin retailers who will suffer – Waitrose for example. And, of course, Ocado – however grand delivery technology is Ocado is not competing on price in the market.
However, those discounters are not listed – nor is Waitrose. So, the movement is in the share prices of those that are – Ocado and Tesco as we can see. Tesco isn't, not particularly, a low margin retailer but it has been trying to regain that reputation and who knows, it might even succeed.
We're seeing much the same over in the German market where Zalando halves its profit forecast. The essential insight is that when times get hard folk count their pennies – reasonably understandable. But this is more than just the shaving of a few pennies off of this or that which will compress margins. The basic calculation of offsetting time and money changes. The tighter money is the less people are willing to pay for the time savings of delivery.
We're also seeing a fall in business confidence in the future of the economy. That is, we can view this as more than just a cyclical switch from higher quality and price to lower quality (maybe) and margin suppliers. We might also see even more reversal of the trend to online shopping that the pandemic boosted. We always knew that there would be some reversal, the calculation has been over how much. If we're headed into serious recessionary territory here then that reversal could be quite brutal. Simply because delivery is trading off money for time and the shorter money is the more of their own time consumers will spend to save the cash.
This doesn't change the long term white hot heat of technology excitement about Ocado and the like. Nor does it insist that higher end retailers are doomed against the discounters. What it does mean though – if that recession is coming and coming hard – that we're going to see compressed margins all around for some time yet. Which isn't going to be good for the profits of the high end retail market, even as it boosts those of the low end.