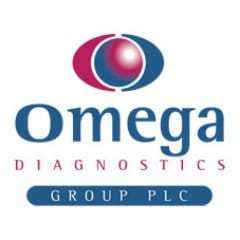 Shares of Omega Diagnostics Group Plc (LON: ODX) surged 17% today despite the lack of major announcement from the diagnostics company as buyers stepped in at a crucial support level and pushed the stock higher.

The company's shares have been falling ever since the British Medical Journal published an article questioning the accuracy of its COVID-19 test kit known as the AbC-19 Rapid Test, which is being rolled out by the UK Rapid Test Consortium (UK RTC).
The article argued that while the test is fairly reliable in cases where people show Covid symptoms, in asymptomatic cases one in five were wrongly diagnosed.
Omega Diagnostics did not deny the claims made in the article but responded saying that the Department of Health and Social Care is satisfied with the performance of the test, as is the UK-RTC, and that it will continue to roll out the use of the product.
The company also recently lost one of its largest shareholders, Richard Sneller, a former Baillie Gifford fund manager, who has sold all his shares in the company having previously held close to a quarter of the company's issued shares.
The Good Law Project has initiated legal action against the government over the purchase of AbC-19 Rapid Tests, which could lead to the cancellation of Omega Diagnostics' multi-million government contract for the supply of the kits.
Omega Diagnostics share price
Omega diagnostics shares surged 17% today to trade at 55p having rallied from yesterday's closing price of 47p.
People who read this also read: