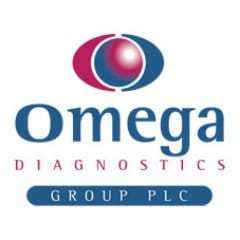 Shares of Omega Diagnostics Group Plc (LON: ODX) today surged 5.35% extending a 3-day rally that begun after the company reported a smaller loss during the first half of its 2021 financial year.
The diagnostics company released the interim results for the six months ended September 30 on Monday reporting a revenue drop of 29% to £3.16 million as compared to last year's £4.46 million.
Omega diagnostics shares rallied after the firm reported a statutory loss of £0.28 million, which was lower than the £0.29 million loss reported in 2019, despite its gross profit margins falling to 42.9% versus last year's 67.5%.
Investors bought the company's shares given the huge potential unlocked in the Chinese market after Chinese regulators approved its self-testing food intolerance product Food Detective. The company expects to sell over 1 million Food Detective tests by 2023 at an average price of $15.5 apiece generating millions in revenue.
Omega diagnostics' VISITECT® CD4 Advanced Disease test is the world's only instrument-free self-testing HIV for monitoring people living with HIV, which the World Health Organisation (WHO) pre-qualified in July 2020.
The company can supply four-to-six million tests over the next three-to-four years and it has a supply agreement with the Clinton Health Access Initiative (CHAI) to accelerate the access of VISITECT® CD4 Advanced Disease in low and middle-income countries.
The company is also a major supplier within the British government's Rapid Test Consortium, an opportunity that could make it up to £200 million if the deal proceeds and the firm meets its supply target of up to 2 million tests a week.
Omega Diagnostics share price
Omega diagnostics shares surged 5.35% to trade at 59p having rallied from yesterday's closing price of 56p.
People who read this also read: