Key points:
PayPal shares had fallen 18.66% premarket after providing weak Q1 guidance.
The payments company will lose millions in revenues from eBay payments.
The firm is now regarded as a mature company that should be profitable.
The Paypal Holdings Inc (NASDAQ: PYPL) share price fell 18.66% after the online payments company issued weak forecasts for its Q1 2022 revenues and earnings, which were much lower than analyst estimates.

Investors punished the company for its weak forecasts despite its Q4 revenues rising 13% to $6.9 billion while its earnings per share came in at $1.11, with both prints aligned with analysts estimates.
PayPal attributed the lower revenue guidance to eBay's move to eliminate PayPal as its primary payments processor favouring an in-house payments processing system to save costs.
According to Dan Schulman, PayPal's CEO, eBay's transition to its proprietary payments system will cost PayPal $600 million in lost revenues.
However, PayPal is looking forward to finalizing the transition, which should occur during the first half of 2022 so that analysts can measure its performance based on its core payments service offering to consumers and businesses.
Dan Schulman, PayPal's CEO, said: "In the second half of the year, I look forward to being able to stop adjusting for eBay, and letting the strength of our core results speak for themselves,"
The latest selloff in PayPal's stock comes when investors are worried about the high valuations of leading growth stocks that have shed billions in valuation since November 2021.
Investors are now questioning the sustainability of the growth stock's businesses that rely heavily on the cheap financing available in the markets amid rising fears of rising interest rates by the US Federal Reserve and other leading global central banks.
Unlike other popular growth stocks, PayPal is a profitable company, but investors are still questioning whether its high valuation warrants further investment, explaining today's selloff.
PayPal shares have fallen 29.43% in the past year and will be headed much lower at the Open. Analysts at BTIG downgraded the stock after the disappointing guidance, saying that PayPal is no longer a growth stock but is now a "show me" stock. Therefore, it has to generate returns for investors to earn a higher valuation.
*This is not investment advice. Always do your due diligence before making investment decisions.
Paypal stock price.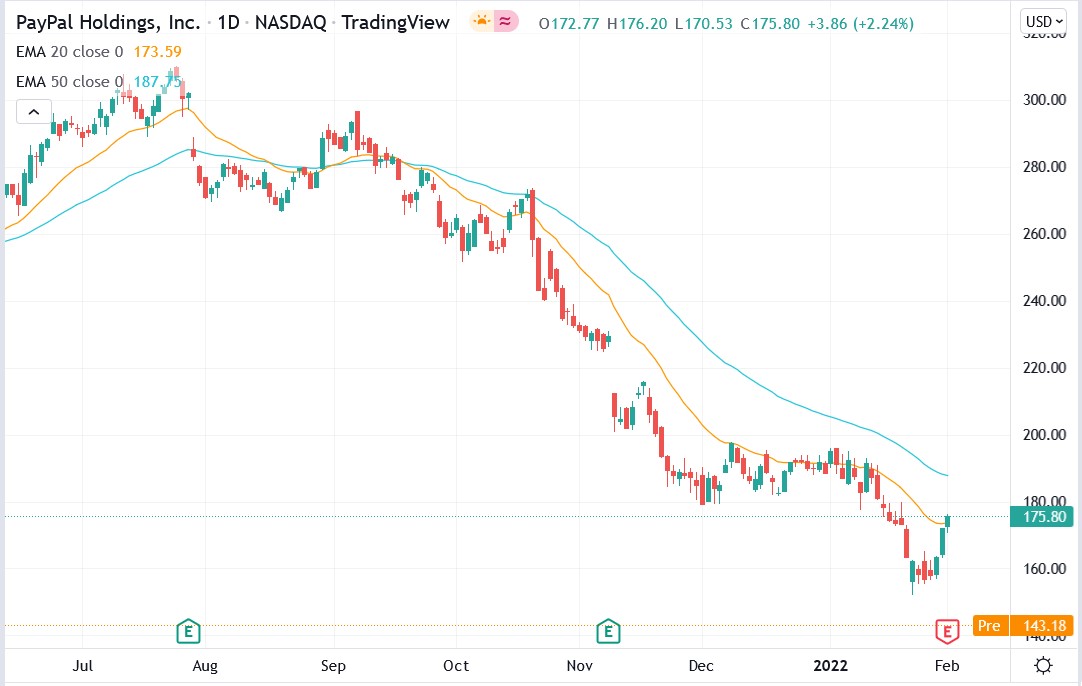 PayPal stock price plunged 18.66% to trade at $143.0, falling from Tuesday's closing price of $175.80.