Key points:
Plug Power stock rallied 10.4% on a lucrative Walmart hydrogen supply deal.
The company will supply 20 tons of liquid hydrogen to Walmart daily.
PLUG intends to secure contracts worth up to 200 tons of hydrogen daily.
The Plug Power Inc (NASDAQ: PLUG) stock price rallied 10.41% after winning a lucrative supply contract with retail giant Walmart. The company said that the deal allows it to supply up to 20 tons of liquid hydrogen to Walmart facilities in forklift machines.

Unlike other hydrogen power companies, Plug Power has focused on developing and supplying hydrogen fuel cells for forklifts and other stationary machines used in factories and similar facilities.
The financial details of the deal were not publicised. Still, the two companies have been working together since 2012, and Walmart has approximately 25,000 forklifts that could all be powered by hydrogen fuel cells.
However, the hydrogen supplied by Plug Power will be used to fuel 9,500 forklifts that transport groceries, televisions and household products around Walmart distribution centers in the United States.
Plug Power has set an ambitious goal of producing 70 tons of clean hydrogen daily and expects to sign more deals in the coming months, with another deal being very likely within the current quarter.
The company is quickly building a network of facilities to manufacture green hydrogen that is not generated using fossil fuels to help lower the carbon footprint of many large organisations.
According to Plug Power's CEO, Andy Marsh, the company expects to secure deals worth 200 tons of hydrogen daily by the end of the year, outstripping its current and planned supply targets leaving it with an order backlog to fulfil.
Plug Power manufactures electrolysers and Lathan fuel cells. It is driven by the firm belief that generating hydrogen with zero carbon emissions is the key to maintaining its leadership position and attracting more customers.
Many investors are waiting to see how Plug Power will build out its hydrogen manufacturing facilities to meet the demand from forklift operators. The firm also targets the trucking industry and wants to become a significant hydrogen supplier to trucking companies.
Investors looking to buy PLUG stock should know that the stock is down 9.49% in 2022 but recently formed a bottoming pattern and has been heading higher since late February. I would buy at current levels with my stop-loss order at $22.50, a break below this level would indicate that the bullish momentum is waning.
However, a break below the $18.28 long term support level would invalidate the bullish thesis since it would mean that the bears were in control of PLUG's stock price.
*This is not investment advice. Always do your due diligence before making investment decisions.
Plug Power share price.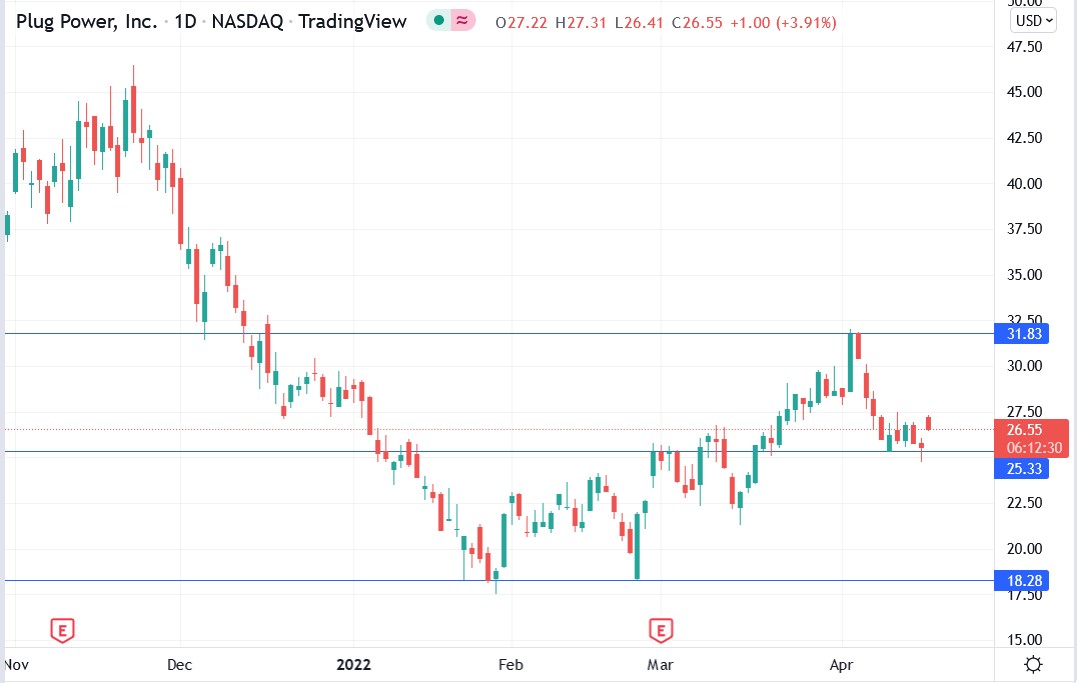 The Plug Power stock price rallied 10.41% to trade at $28.21, rising from Monday's closing price of $25.55.