Shares of London-listed Israeli CFDs broker Plus500 Ltd (LON: PLUS) fell up to 4.28% after releasing its 2020 full-year results and unveiling a new share buyback plan worth $25 million.
Investors seemed unimpressed by the company's upbeat earnings results as its shares fell to the 1320p support level before bouncing off and trimming some of their initial losses.
From a technical standpoint, Plus500 shares seem ready to rally given that the above support level has held in the past, but not cleanly, we've seen cases where the support level has been broken, but the price later reversed and headed higher.

The odds this time favour a rally from this point, especially given today's bounce, but the level needs to hold over the next few days to confirm that buyers have successfully defended it.
Plus500 executives have been on a share buyback spree since last year when volatility in the financial markets caused the broker's revenues to surge as trading volumes surged on the back of the coronavirus pandemic and the resulting market crash.
Plus500's revenues rose 146% to US$972.5 million, while its pretax earnings grew 168% to US$515.9 million on an annualised basis. The company also reported that customer income, a measure of its customer's success, grew 161% to US$997.5 million as its clients earned more.
A surge in customer numbers drove the broker's positive results as it added 294,728 new customers in 2020, a 223% improvement compared to 2019, while the number of active customers rose 117% to 434,296.
David Zruia, Chief Executive Officer, commented:
"2020 was an exceptional year for Plus500, in unprecedented market conditions, where we delivered a record performance due to the strength and agility of our technology and its ability to respond rapidly to market developments and news events.
"In addition, we will continue to invest in our business, with approximately $50m to be incrementally invested in R&D over the next three years, designated to develop new products and services, drive innovation and scale our technology, including the establishment of a new R&D centre in Israel.
Plus500 share price.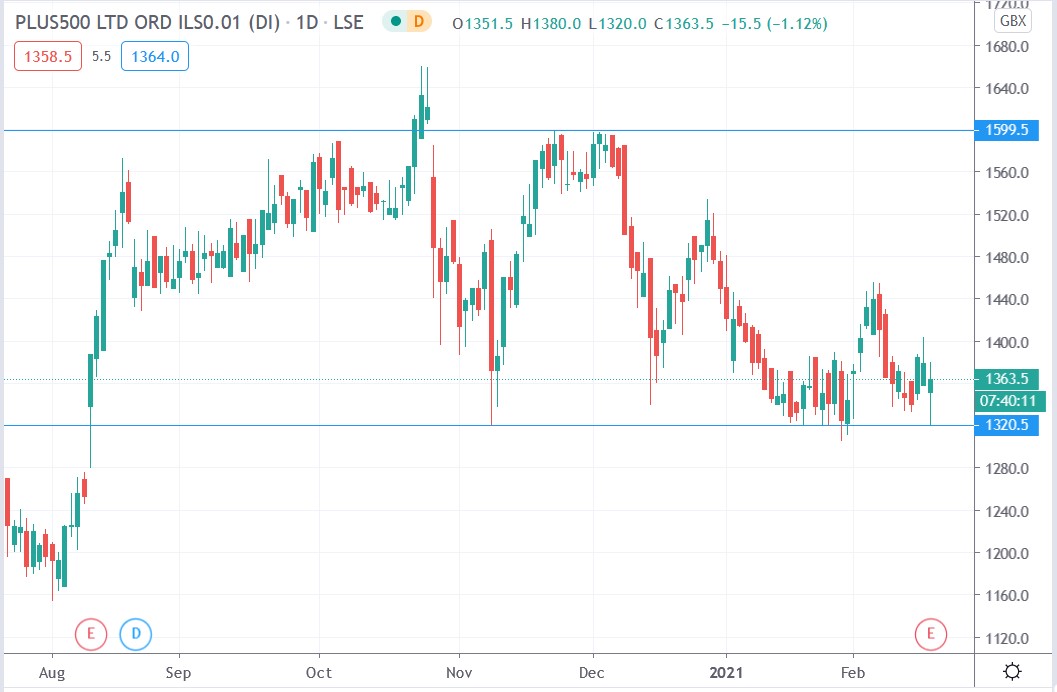 Plus500 shares fell 4.28% to trade at 1320p falling from Tuesday's closing price of 1379p.