Key points:
British Airways owner IAG shares plunged 4.65% despite positive news.
However, investors largely ignored the news as IAG shares fell to support.
So, should you buy IAG shares? Read on to find out.
The International Consolidated Airlines Grp SA (LON: IAG) share price has fallen 4.65% in the past week despite the airline group making positive announcements. Yesterday, the airline group announced that all its airlines would post a profit by the end of the year.

While one would expect such news to trigger a rally in IAG's share price, the airline group's shares were trading lower at writing, showing that the positive news had no impact on its share price.
Also read: The Best Airlines Stocks To Buy.
IAG owns British Airways, Aer Lingus, Vueling and Iberia, among others. CEO Luis Gallego expects all IAG airlines to be profitable by the end of 2022 as the group recovers from the two-year slump that had hit the airline industry after the emergence of the COVID-19 pandemic.
Investors appeared largely unbothered by the latest development since, as I have mentioned previously, British Airways, its largest airline, is currently involved in a standoff with its pilots, who are demanding higher pay as the airline's profit rises, a fair request.
However, the British Airways management team has been reluctant to award the pilots higher pay, especially for their flight overtime hours. Hence, the airline is at risk of a go-slow from the pilots who said they could stop flying the extra hours and do the bare minimum as set out in their contracts.
Despite the muted reaction from investors to the latest development from IAG, we could still get a rally if the support level at which IAG shares are trading holds over the coming days. The recent decline in IAG's share price has left its shares trading at a crucial long-term support level.
Investors should watch the IAG shares' performance over the coming days to see if the support zone will prevail, triggering a rally higher as buyers step in to overpower the sellers.
Short-term traders know that trading is reactive; hence, you should only buy IAG shares if they show signs of a potential rally, as evidenced by several green days.
*This is not investment advice.
IAG share price.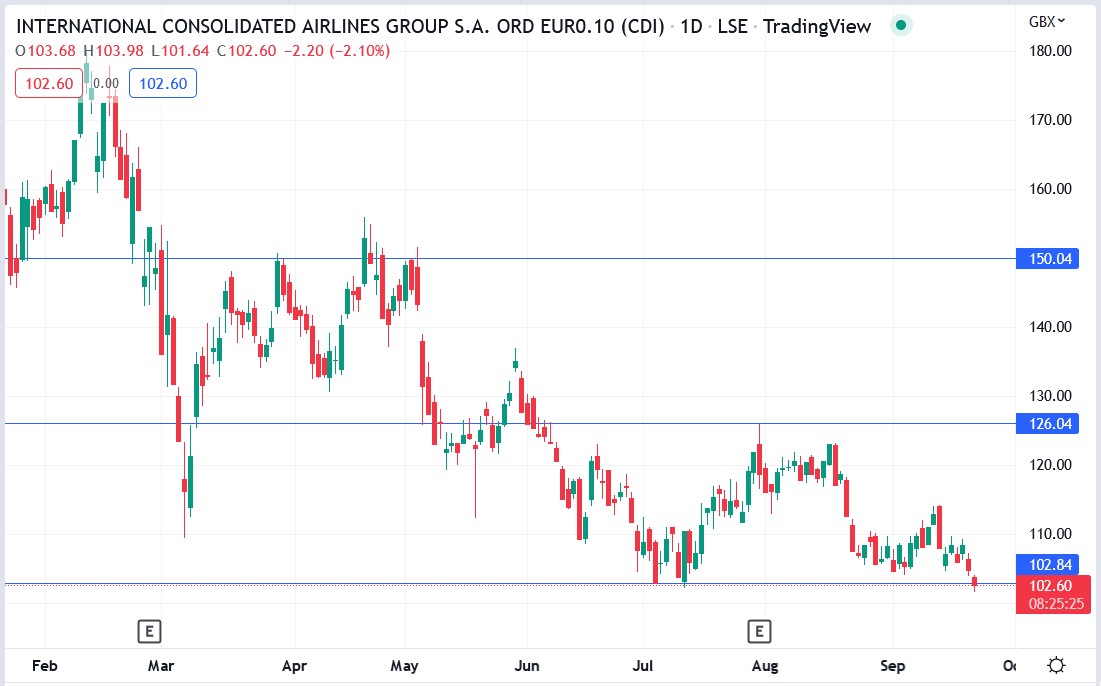 The AIG share price has fallen 4.65% in the past week despite upbeat updates from the airline group.