Key points:
Polymetal shares have dropped back 11% on Q2 production results
This is after the 30% rise on possibly solving sanctions problems
The next big issue is the financial results in September
Polymetal (LON: POLY) shares are, as they say, volatile at present. The problem is, of course, the continued overhang concerning sanctions in and upon Russia. Polymetal itself is not sanctioned, the business is not, none of the major investors are but there are still effects. After all, Petropavlovsk (LON: POG) was not sanctioned either and yet the sanctions still sent POG into administration.

The Polymetal share price had a significant bounce from 170p to perhaps 235p as they announced their plans to – perhaps – solve any sanctions problems once and for all. That bounce has largely gone as the shares are back down to around the 200p level. One explanation for this could be that the plans are still a bit diaphanous. Selling the Russian business, POLY then becoming the Kazakh business plus cash might well work but it's not exactly a done deal as yet. So the excitement might be fading and that's all there is to it.
On the other hand today we have the Q2 production report and that's showing what the real effects of the sanctions are on Polymetal. Nothing – as yet – serious and life threatening, but there is a general deterioration in the margins and business numbers. As owners, investors, of course we're not happy with that either, even if it's a less immediate problem than what killed off POG. This is the alternate explanation for the Polymetal share price fall.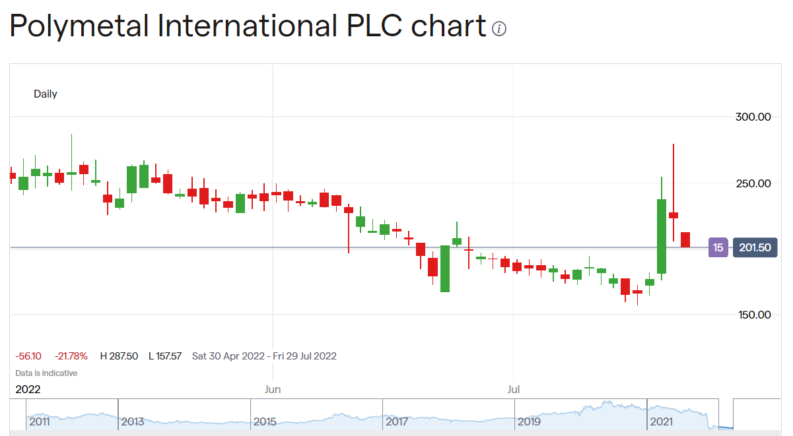 Also Read: Five Best Gold and Gold Mining Stocks To Buy Right Now
In the production report we get confirmed the news about good delivery bars. Both London and Chicago bullion markets have said Russian refineries are no longer good delivery. That doesn't affect Polymetal as the marketing is into East Asia and also largely as concentrates, not bars. Actual production was down by 7% gold equivalent (GE) and this was partially made up for by higher sales prices. However, inventory is building up given business dislocations. This is expected to liquidate over this coming quarter. The rouble has risen against the dollar, meaning that mining costs internal to Russia are rising as against the world price of gold – not a happy circumstance, given that there is also rouble inflation in those mining costs as well. The full production report can be seen here.
The lesson so far is that while sanctions don't apply directly to Polymetal they are having an effect on the underlying business. So, yes, the plan to split might well be value additive. But we're going to have to wait to see how that plan works out.
The next two issues that might produce significant revaluations are the H1 2022 results – not production results, as here, but financial results – on 22 September. Then we'll be able to see the full effects of the deterioration in business circumstances. The other issue will arrive at the same time. That's whether there will be a half year or interim dividend. Plus, as previously announced, whether the previously announced but then suspended dividend will be paid. That's the event to prepare trading positions for.