Key points:
FCM has just floated in London
Power Metal owns a large piece of FCM
POW shares haven't moved much, showing the FCM float was about rightly priced
Power Metal Resources (LON: POW) shares are little more than drifting this morning on the news that First Class Metals (LON: FCM) has now floated. Yes, POW shares are up 5% but given that there's a 5% and change spread on Power Metal shares that is about drifting. The reason for this is a little lesson in several different piece of stock market technicality.

The most important of which is that things we already know about are already in stock prices. We've known that First Class is going to float for some time. We know that there would be an associated capital raise and so on. So, what has happened is not new news. Sure, it's confirmation that there's been no hitch in the plans but it's not some surprise that's just leapt up over the horizon. So, perhaps a small move on that no hitch news but little more than that.
We can also run this same tale the other way around. Power Metal is rather keen that we all know that they own 28% or so of that First Class which has just floated. That's fine, they should remind us of that – while it's not new news it is something that could have slipped from minds. So, with the listing we've got a price for that shareholding. This enables us to confirm our guess as to its value within Power Metal.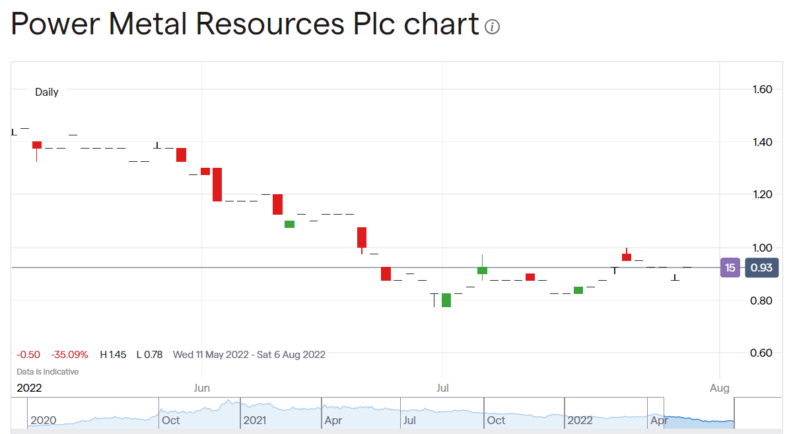 Also Read: How To Invest In Metal Stocks
We're also able to spin this idea around once again. We now have that market valuation of First Class Metals as an organisation. Including the value of the capital raise, the listing, and the portfolio of prospective properties in Canada. Well, that's nice. We also know that Power Metal owns that 28% or so of that. The Power Metal price hasn't really – including that spread – moved all that much on the valuation of First Class. Therefore the price at which First Class came to market is at about the same as the valuation on the Power Metal books. It's not been sold too cheap, it's not some grand victory of gaining above market value.
Precisely that the flotation hasn't brought some significant Power Metal revaluation is our proof that the previous valuation was about right that is.
As to the future of course the linkage between the two companies means that an improvement in First Class Metal prospects will feed through into Power Metal. It's reverse leveraged, of course – POM contains other assets and activities as well, so any change in FCM valuation produces a smaller effect in POW. But it will still be there and it's something worth keeping an eye upon. That less than 100% gearing relationship between the prices also means that if we want to play First Class' performance we should do so directly, not through the medium of Power Metal. For that direct exposure will lead to a more direct linkage between changes in the share valuation and performance.