Shares of Premier Oil PLC (LON: PMO) fell 4% today but remained within the tight trading range that has been in place since December 2020. Can the shares rally above their current levels and hit new highs?
The oil company's stock fell 81% over the past year as it struggled with a huge debt burden and the crash in global crude oil prices triggered by the coronavirus pandemic lockdowns.
The firm got some relief when Chrysaor Holdings decided to merge with it in October 2020 saving from what many saw as imminent bankruptcy.

Premier Oil's stock price rallied higher following the announcement but has traded sideways since early December despite mounting short interest from institutions such as hedge funds looking to benefit from further declines in its stock price.
The fact that the company's stock has been trading sideways for almost two months indicates that neither buyers nor sellers have control of its price, which usually precedes a major rally or downtrend.
Ther merger between Premier Oil and Chrysaor is set to be completed this year, culminating in the unveiling of a new company known as Harbour Energy, providing a major tailwind for the company.
Premier Oil shares are likely to trade at much higher prices after the reverse merger is complete given Chrysaor's massive resources and capitalisation, rewarding current investors with massive gains under the combined entity if a rally ensues.*
Premier Oil is also set to benefit from rising crude oil prices as global economic recovery gets underway this year due to the coronavirus vaccine rollout in many countries, allowing global travel and normal business operations resumption.
However, nothing is guaranteed in the market, and we could see Premier Oil shares trade lower after the merger invalidating the above thesis. I am betting on the company's shares rising after the merger, but there are no guarantees here.
*This is not investment advice.
Premier Oil share price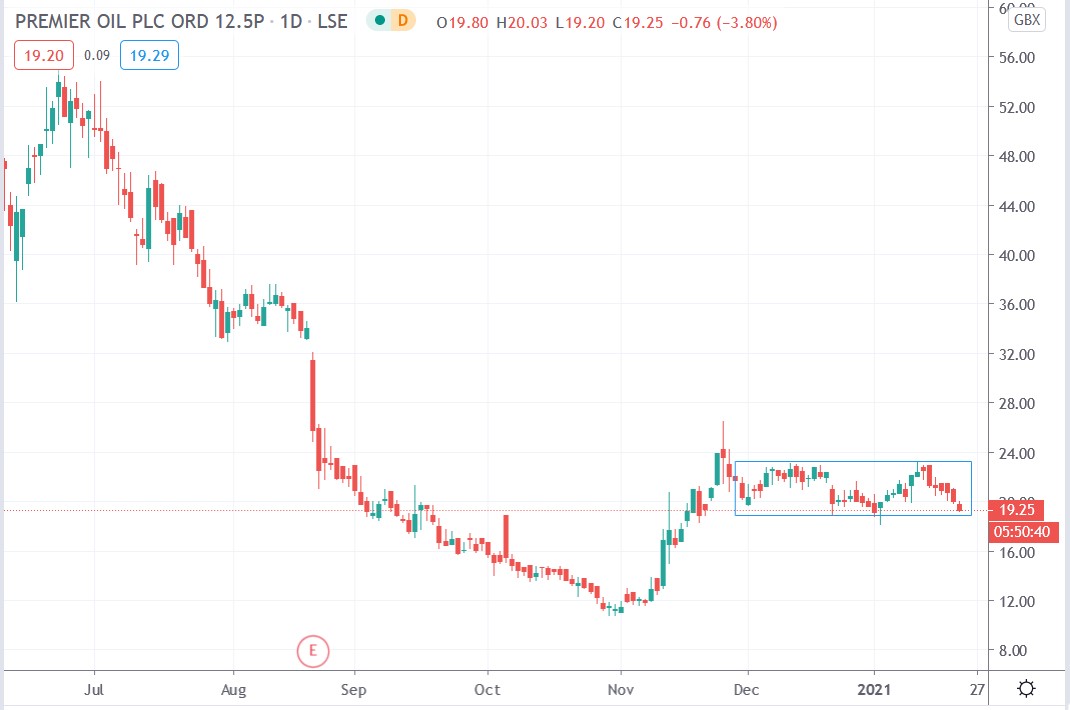 Premier Oil shares fell 4.04% to trade at 19.20p having dropped from Thursday's closing price.