Key points:
The ProShares UltraPro short ETF (SQQQ) stock price is up 58% YTD.
In addition, the ETF has benefitted from the Nasdaq's decline this year.
So, should you buy SQQQ stock? Read on to find out.
The ProShares UltraPro Short QQQ ETF (NASDAQ: SQQQ) stock price is up 58% since the year started and could have been much higher had it not retraced a significant percentage of its earlier gains.

The 3X inverse ETF tracks the performance of the Nasdaq 100 index and tries to deliver 3x the inverse movement of the Nasdaq index daily. However, the ETF is not an excellent long-term investment since it is designed for daily moves but not long-term trends.
Also read: What Are The Best Performing ETFs In 2022.
As a leveraged inverse ETF, SQQQ carries significant risk since it falls when the Nasdaq 100 index rises and soars when the index falls. In addition, the ETF magnifies the underlying moves in the Nasdaq index since it is a 3X inverse ETF.
Therefore, investors can generate three times profits when the Nasdaq is falling, but they will incur losses three times as large as any positive moves in the underlying index. For this reason, most investment managers will discourage retail investors from buying the SQQQ ETF.
However, short-term traders and professional hedgers love to trade the index mainly as a hedge against potential declines in some of their longer-term holdings. Still, traders and investors should constantly manage their positions to minimise losses when the Nasdaq index rises since SQQQ usually falls.
Therefore, while retail investors should generally stay away from SQQQ, it can be a valuable tool for active traders and professionals who are constantly managing their open positions.
Investors who have bought SQQQ stock whenever it pulled back this year have been handsomely rewarded, given that US stock markets indices have been in a prolonged bear trend.
However, this trend may not last if the Nasdaq index reverses course and starts rising again. Meanwhile, some analysts predict a further decline in the US stock markets before the current downtrend ends, which could significantly boost SQQQ. However, as savvy investors, we should restrain ourselves from predicting where the markets might go, with our primary focus being on preparing for any eventuality.
*This is not investment advice.
The SQQQ stock price chart.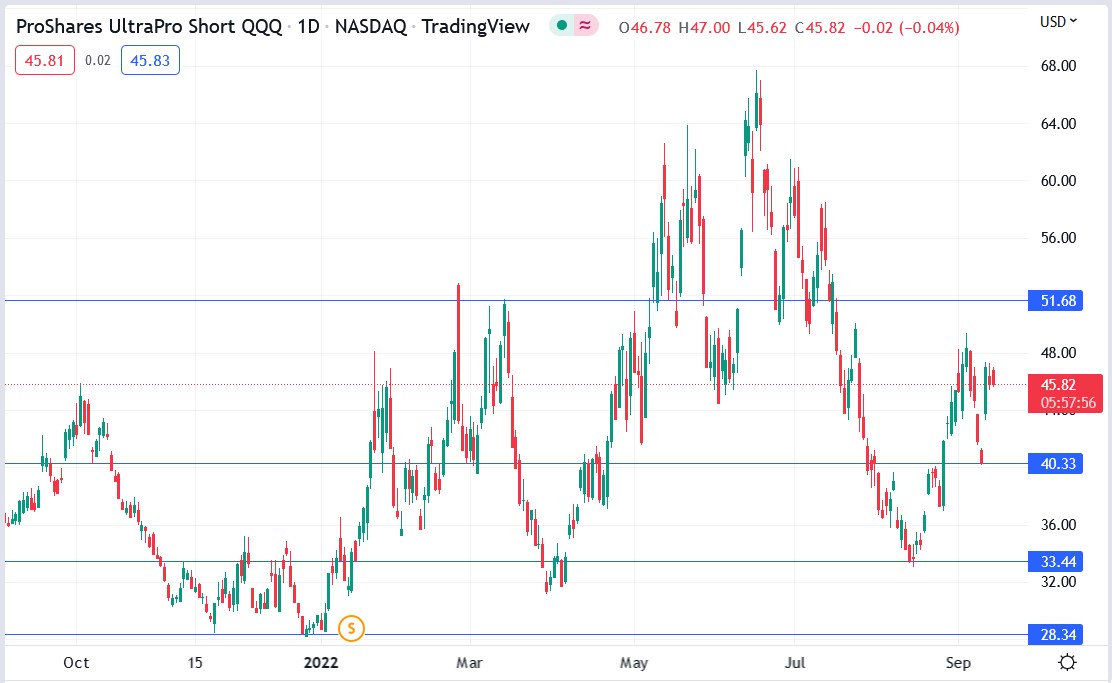 The SQQQ stock price has risen 58.07% since the year started having retraced some of its gains.