Key points:
Quantum Blockchain (QBT) shares surged 7.14% on director appointment.
The company's shares were suspended from the LSE on 16th August 2022.
QBT shares look attractive at current prices. Are they a buy?
The Quantum Blockchain Technologies PLC (LON: QBT) share price surged 7.14% after appointing Peter Fuhrman as a non-executive director. The London Stock Exchange suspended trading the company's shares on 16th August 2022 since QBT only had one director.

One of the critical listing rules of companies on the London Stock Exchange is that they must have at least two directors. Unfortunately, QBT has had only one director, Francisco Gardon, its CEO and Executive Chairman, so the LSE ordered the suspension of its shares.
Also read: The Five Best Climate Tech Stocks In 2022.
However, QBT shares resumed trading on the LSE earlier today following the appointment of Peter Fuhrman as a non-executive director. Fuhrman has decades of experience in the high-technology industry, given that he is the chairman and chief executive of China First Capital, which invests in China's semiconductor industry, robotics, advanced manufacturing, nano-positioning, precision automation and photonics.
Investors cheered today's announcement that brings Quantum Blockchain Technologies in line with the LSE's listing rules. The company has had multiple breakthroughs this year and is on track to unveil some of the most potent crypto miners globally.
Therefore, it would be unfortunate to have the company's shares suspended from the public market where everyday investors can benefit from its future profits and be part of a firm that could easily disrupt the crypto mining industry.
Peter is also a strategic adviser on advanced technologies and market expansion to the board and chairman of China's largest listed high-technology manufacturing companies and one of Germany's largest semiconductor technology companies.
QBT's CEO and Executive Chairman Francisco Gardin commented: "I have known Peter for some time, and I have always been impressed by his views on technology and its economic impact. I believe Peter's appointment to the board will have a strong positive impact, not only because of his experience but also due to the vast network he has developed in over 30 years of international business in the US, Europe and China."
So, should you buy QBT shares? The shares look attractive at current prices since they are trading near multi-month lows and could head higher.
*This is not investment advice.
QBT share price.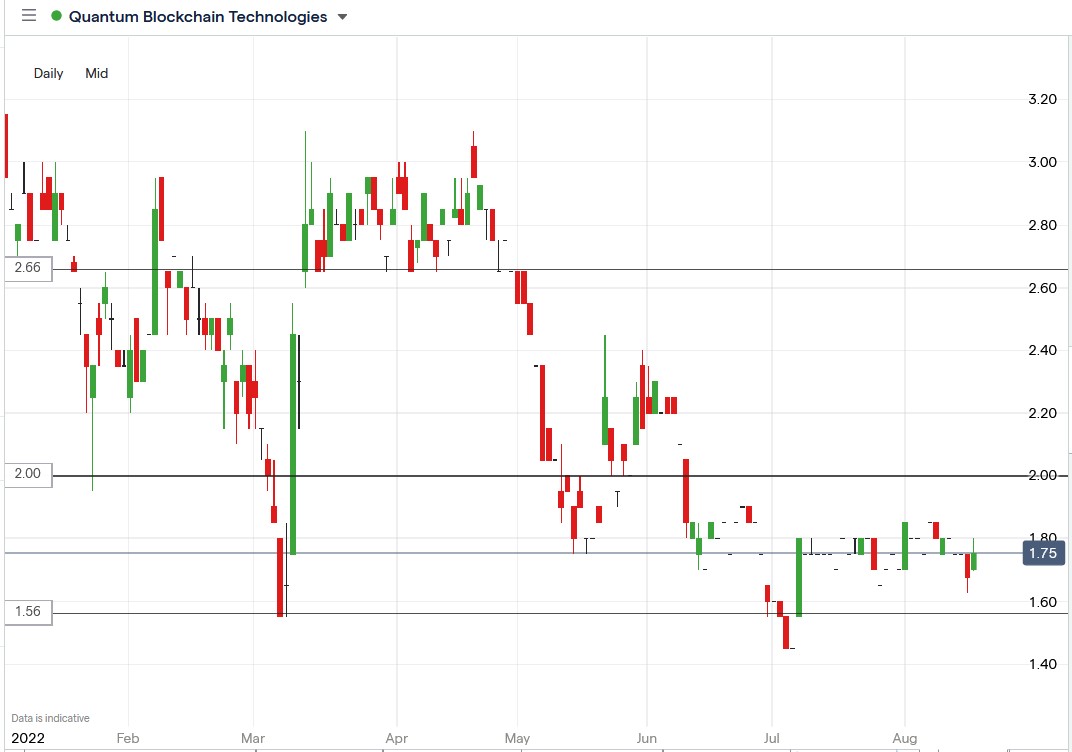 The QBT share price rallied 7.14% to trade at 1.80p, rising from its last closing price of 1.68p.