Shares of bitcoin mining company Riot Blockchain (NASDAQ: RIOT) are making gains on Monday after the company reported that it produced 187 bitcoin in March 2021, an 80% increase over its pre-halving March 2020 production of 104 BTC.
In the first quarter of 2021, the company produced 491 BTC, a 75% increase over its pre-halving Q1 2020 production of 281 BTC.
As of March 31, 2021, Riot holds over 1,565 BTC on its balance sheet, all produced by its mining operations.

The company also recently bolstered its management team, appointing Megan Brooks as Chief Operating Officer, Phil McPherson as Vice President, Capital Markets and Ryan Werner as Vice President, Finance.
It also recently announced an agreement to acquire Whinstone US Inc.
Riot's share price has gained 8% so far on Monday, trading at $53.65. It has increased over 222% for the year to date, climbing at a faster pace than bitcoin itself, which is currently trading at the $59,700 level.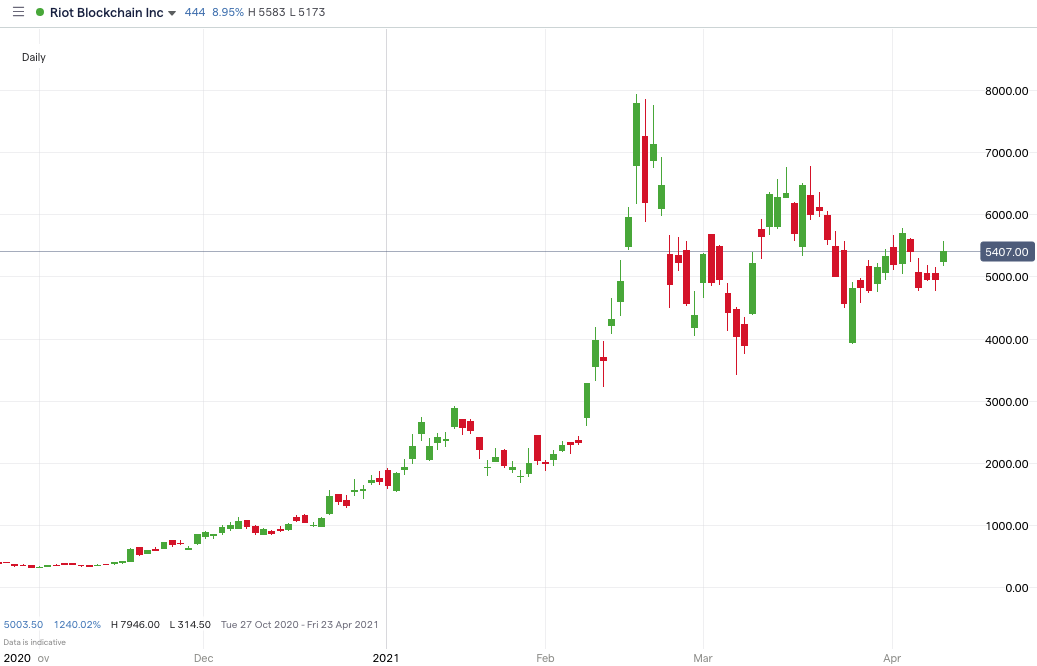 By Q4 2022, Riot expects a total hash rate capacity of 7.7 EH/s with a fleet of approximately 81,146 Antminers, 95% of which will be the latest generation S19 series model. When fully deployed, the company's total fleet is expected to consume approximately 257.6 MW of energy with an overall hash rate efficiency of 33 joules per terahash (J/TH).
Should You Invest in Riot Blockchain Shares?
One of the most frequently asked questions we receive is, "what stocks are best to buy right now?" It's a wide-ranging question, but one that we have answered… Our AskTraders stock analysts regularly review the market and compile a list of which companies you should be adding to your portfolio, including short and longer-term positions. Here are the best stocks to buy right now