Key points:
Robinhood shares fell 12.4% premarket on weak Q4 2021 results.
The broker reported a $423 million loss during the quarter.
Moreover, the firm's future outlook is not as promising as last year.
The Robinhood Markets Inc (NASDAQ: HOOD) share price fell 12.4% during premarket trading after the financial services company reported weak results for the last quarter of 2021.

The company that offers free stock trading services told investors that it made a net loss of $423 million in Q4 2021 driven by higher salary costs as it expanded its staff count combined with higher stock-based compensation.
However, the company told investors that these costs should start falling going forward or, at the very least, record minimal increases in the future. The firm's legal costs also ballooned to over $136 million by July 2021 compared to $1.4 million in 2019.
Robinhood is facing multiple investigations from the U.S. Securities and Exchange Commission (SEC) regarding its payment for order flow (PFOF) business model, which came under heavy scrutiny following the meme stock frenzy of last year.
However, Robinhood reassured investors that it does not expect the SEC to ban the practice despite the multiple investigations. A ban of the practice could be crippling for the company,w which generated 72% of its Q4 2021 revenues from the business model.
The stockbroker also reassured investors that its customers were not disengaging from the markets after the monthly active users fell from 18.9 million in Q3 to 17.3 million in Q4 2021.
Robinhood expects to generate revenues lower than $340 million in Q1 20221, representing a 35% drop from the figures generated in Q1 2021.
Investors expect the company revenues for Q1 and Q2 2022 to be below those of similar periods in 2021 as the meme stock effect fades into the background and retail traders step away from the markets.
Despite the drop in the number of active users, the broker managed to grow the number of total funded accounts to 22.7 million at the end of Q4 compared to 22.4 million in Q3 2021.
The company added a whopping 10 million new accounts in 2021, and many wonder whether it can maintain its impressive growth trajectory.
On a positive note, Robinhood reported revenues of $363 million in Q4 2021, managing to beat analysts consensus estimates of $363 million, but it faces a significant challenge keeping up with last year's figures.
The double threat of the Fed hiking interest rates and rising inflation numbers in the U.S. pose a significant challenge for the company. I would stay away from Robinhood shares given the weak outlook for Q1 and Q2, adding that it is yet to generate a profit.
*This is not investment advice. Always do your due diligence before making investment decisions.
Robinhood share price.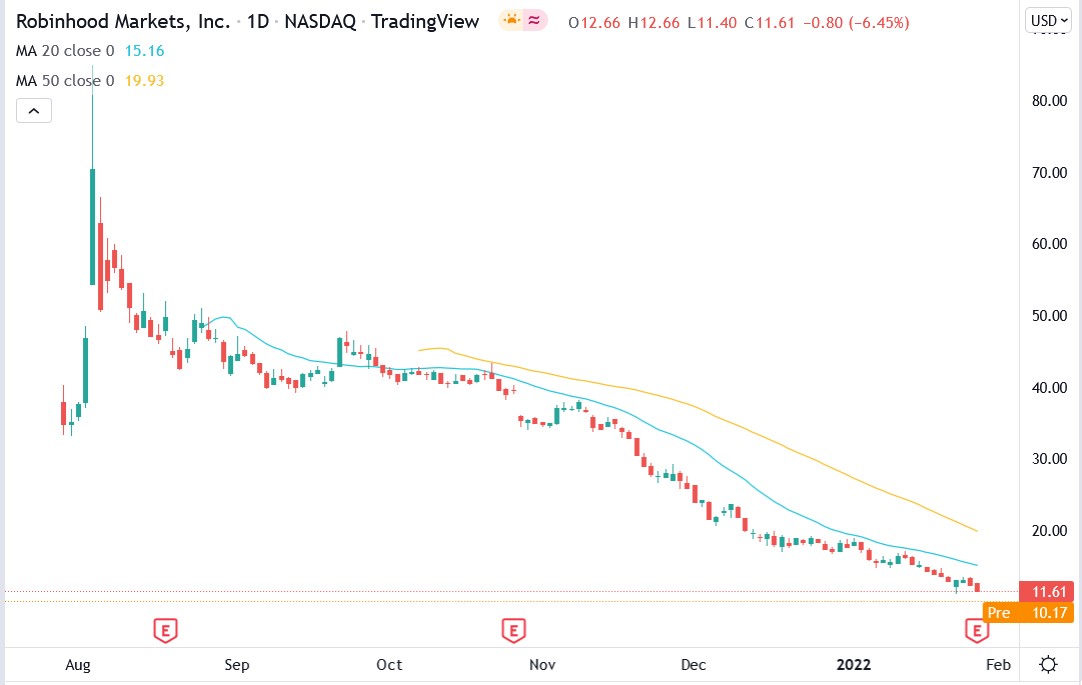 Robinhood shares had fallen 12.40% premarket to trade at $10.17, falling from Thursday's closing price of $11.61.