Rockfire Resources (LON: ROCK) said a small scale open pit mining operation at its 100%-owned Plateau Gold Deposit in North Queensland, Australia, has returned positive results, causing its share price to rise on Thursday morning.
A preliminary study of the small-scale open-pit mine showed a net positive cash flow, ranging from A$6.8 million to A$19.4 million.
Multiple targets within the proposed pit are yet to be drilled, with the scoping study identifying numerous opportunities to increase gold ounces with additional shallow drilling, according to Rockfire.

"There is therefore significant potential to increase the economic outlook of the project based on continued exploration success at depth," said Rockfire.
They added there were several targets within 250 m of Plateau that will be drilled to explore for additional near-surface gold ounces, but they are not yet included in Rockfire's JORC resources.
"We are very pleased that this preliminary Scoping Study has returned results indicative of a small-scale, open pit operation, delivering a range of net positive cash flow outcomes," said David Price, CEO of Rockfire.
"At an early stage of a project's exploration history, it is prudent to focus on the possibility for eventual economic extraction and a positive result at this stage is a very significant achievement and a promising start for Plateau. As more work is completed, the understanding of the financial and operational parameters of a project become apparent and more confident," added Price.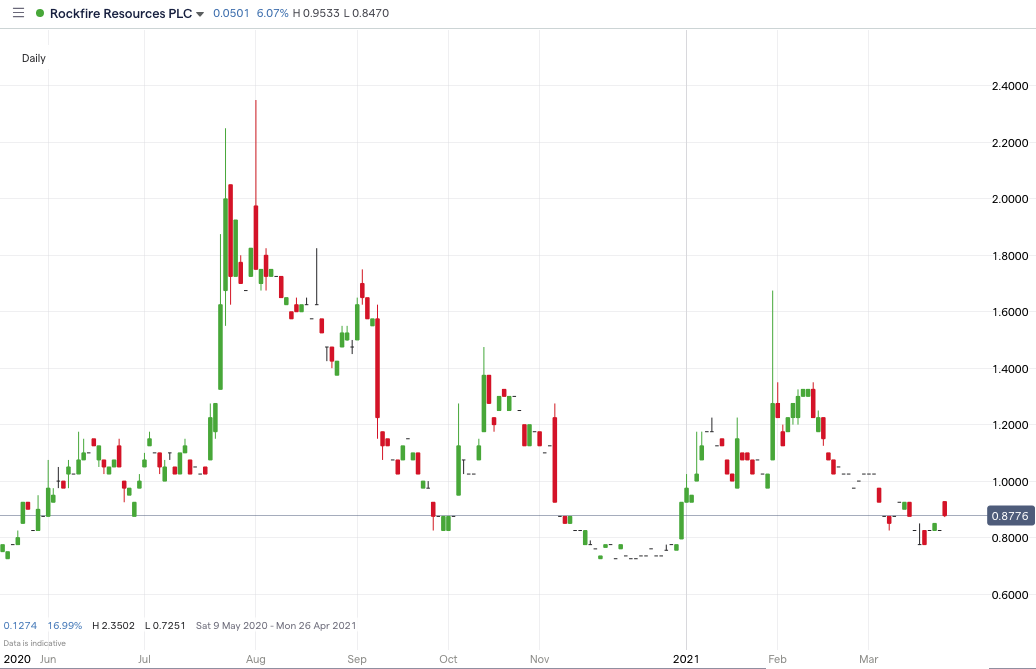 Rockfire Resources share price is currently trading at 0.898p, up over 8%. Session highs of 0.95p were reached immediately after the London open.
Should You Invest in Rockfire Resources Shares?
After a fall from the $2,000 level, could gold be set for another run higher? If you're a gold investor, you won't want to miss out on these stocks… Discover which companies our analysts are focusing their attention on for the coming months. If gold does move back to $2,000, these investments could see significant gains