Shares of The Sage Group plc (LON: SGE) are down 21.6% this year as the accounting software company struggled due to the impact of the coronavirus pandemic and the shift by most businesses to subscription-based products.
The company's share fell in November after reporting that sales of its older non-subscription products fell 26% despite the company saying that this was expected and is part of its overall strategy.
Sage, which sells accounting software to businesses also announced that it expects next year's sales to decline 3 percentage points, which is much higher than the 1.7 percentage point decline reported during the current year.
The recent sale of its Polish business for $88.2 million (£66 million), which also drove its shares lower.
The company continues to grow its subscription revenues, which rose 20% in the year ended 30 September with the proportion of its income from non-subscription services shrinking further each year.
Doubts continue to linger on whether Sage shall successfully transition to a subscription-based business model while remaining profitable, but if the latest figures are any indication, the company is surely on the right track.
Sage reported that 99% of its subscription customers renewed their services last year contributing approximately 84% of the group's revenues. Currently, 65% of the firm's customers have shifted to the subscription model and this number is likely to grow next year.
The company's fundamentals look solid but a rally in its stock price will largely depend on whether investors appreciate its value proposition, or if the company's financial results improve significantly.
Sage shares are trading at a key long-term support level making a rally more likely than a decline.
Sage share price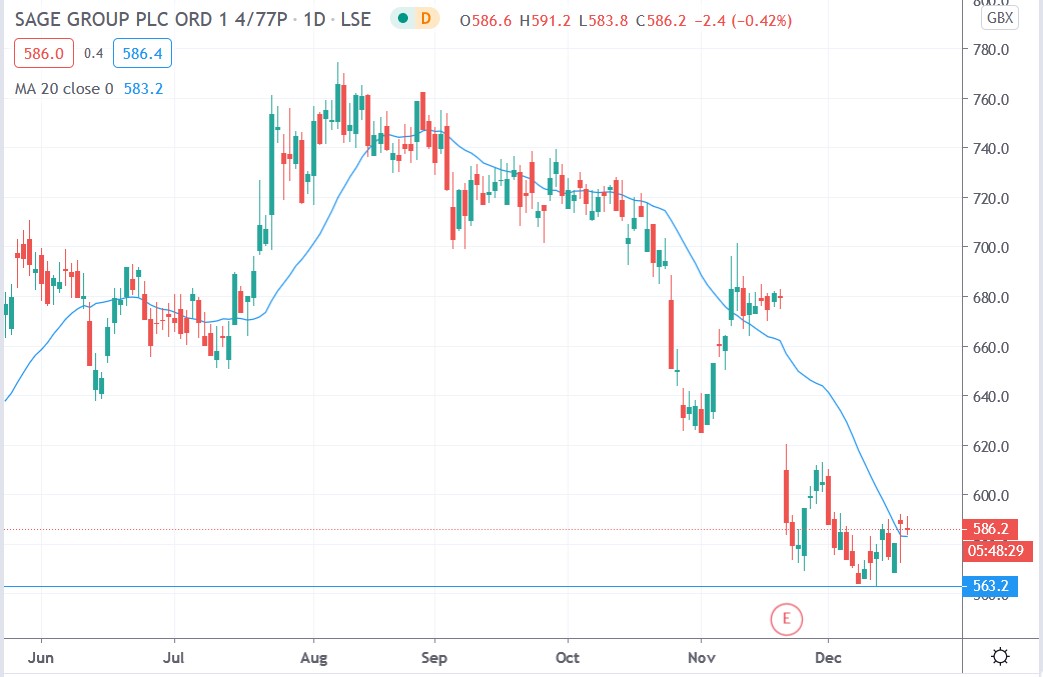 Sage shares are down 13.92% in the past month, have they hit a bottom, and can they rally heading into next year?