Shares of The Sage Group plc (LON: SGE) are up 24.3% in 2021, driven by surging customer numbers mid demand for its cloud-native business services.
The accounting software group recently announced results for the past three quarters of its 2021 financial year ended June 30.
Sage grew its revenues 5% to £1,220 million compared to the £1,162 million recorded in a similar period last year, leading to a surge in its share price.

The company revealed impressive organic revenue growth in North America and Europe within its Sage Intacct cloud-based financial management and services business, with North America recording a 7% increase. In comparison, Europe registered a 4% rise.
Sage Group is focused on growing its cloud-based system, which many customers prefer as it migrates most of its legacy accounting services to the cloud.
The accounting software firm reported a 6.1% growth in its recurring revenues to £409 million, primarily driven by a surge in its cloud-native business, which surged 37% to £74 million compared to the £54 million recorded in a similar period last year.
Sage Group's shares have staged an impressive comeback following the downtrend that ensued between August and December 2020, erasing all the gains made after the coronavirus-induced March selloff.
Jonathan Howell, Sage Group's CFO, commented: "The performance of the Group in the first nine months of the year demonstrates continued delivery against our strategy. Sage's growth is accelerating, driven by increasing demand for Sage Business Cloud solutions, particularly in cloud-native, as we support customers in their digital transformation. Through our additional strategic investment, we are building strong foundations to drive further sustainable growth and support the long-term success of the Group."
From a technical perspective, Sage shares are $50 off their August 2020 highs, the next target for bullish investors. However, we will likely get a significant push lower if the bears step in and stop the bullish momentum.
Meanwhile, I would wait for a significant pullback before jumping in.
*This is not investment advice.
Sage share price.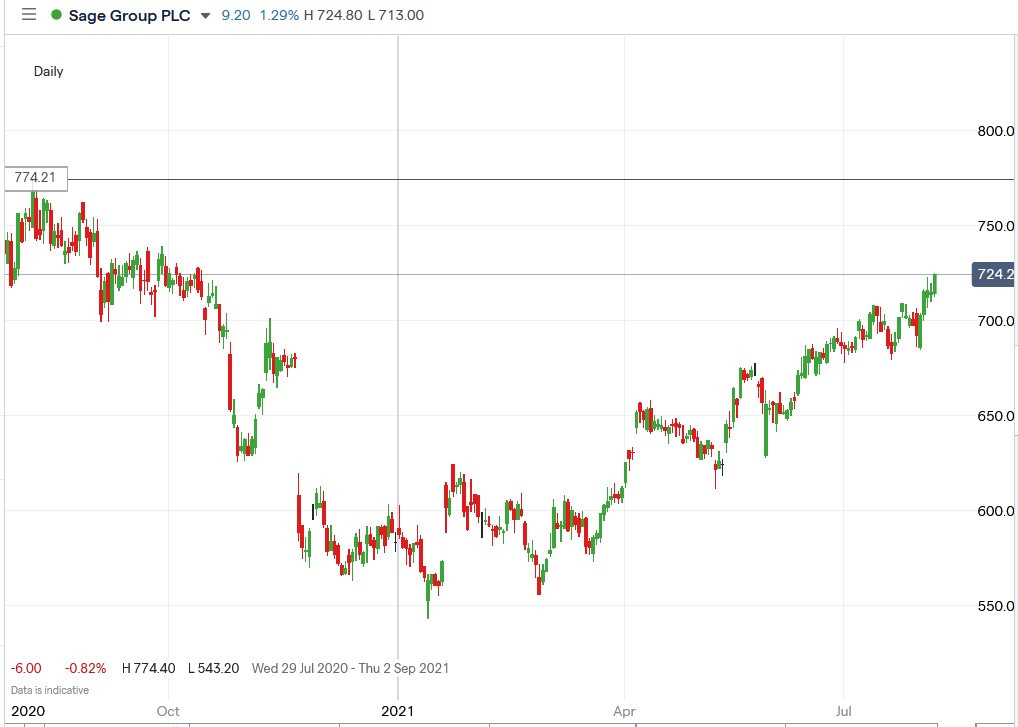 Sage shares are up 24.3% in 2021, driven by surging demand for its cloud-native services.