Key points:
The Shiba Inu crypto price soared 35.21% after being listed on Robinhood.
The move was expected since a similar listing on Binance triggered a rally.
However, investors should exercise caution when investing in meme coins.
The Robinhood Markets Inc (NASDAQ: HOOD) stock price edged higher after listing four new cryptocurrencies on its platform. The trading platform announced that it had listed Compound $COMP, Matic $MATIC, Solana $SOL, and Shiba Inu $SHIB.

The platform had been under significant pressure to list the Shiba Inu coin. Investors went crazy after the coin was listed, with statistics showing that over $1 billion in funds flowed into the meme coin after the listing.
Investors have been piling pressure on Robinhood to list more cryptocurrencies to boost its crypto revenues, which had fallen to $51 million in Q4 2021 compared to a high of 4223 million in Q2 2021.
Crypto traders and investors had asked the trading platform to list Shiba Inu, a popular mem coin, which has recently attracted significant interest from investors.
Today's sharp rally in Shiba Inu prices, which were up 34.28% at writing, was expected given that Shiba Inu's listing on Binance last year had triggered a similar rally.
However, investors buying the Shiba Inu coin should not forget that it is a meme coin with little use value in the real world, making it extremely vulnerable to tweets from high-profile individuals like Elon Musk.
The coin was a derivative of Dogecoin and has branded itself as a "dogecoin killer", with recent events suggesting that it might achieve its goal of killing its predecessor if it remains popular among investors.
Another trigger behind Shiba Inu's rally today was the burning of 258 million SHIB by the Shib Army in the past 24 hours, just as Robinhood listed the meme coin. A limited coin supply can lead to higher prices as the supply drops, while demand rises following SHIB's Robinhood listing.
SHIB's rally far outdid its peers who were also listed on Robinhood as $MATIC was up 9.43%, while $COMP had risen 11.25%, and $SOL was up 8.54% at writing.
Shiba Inu crypto price.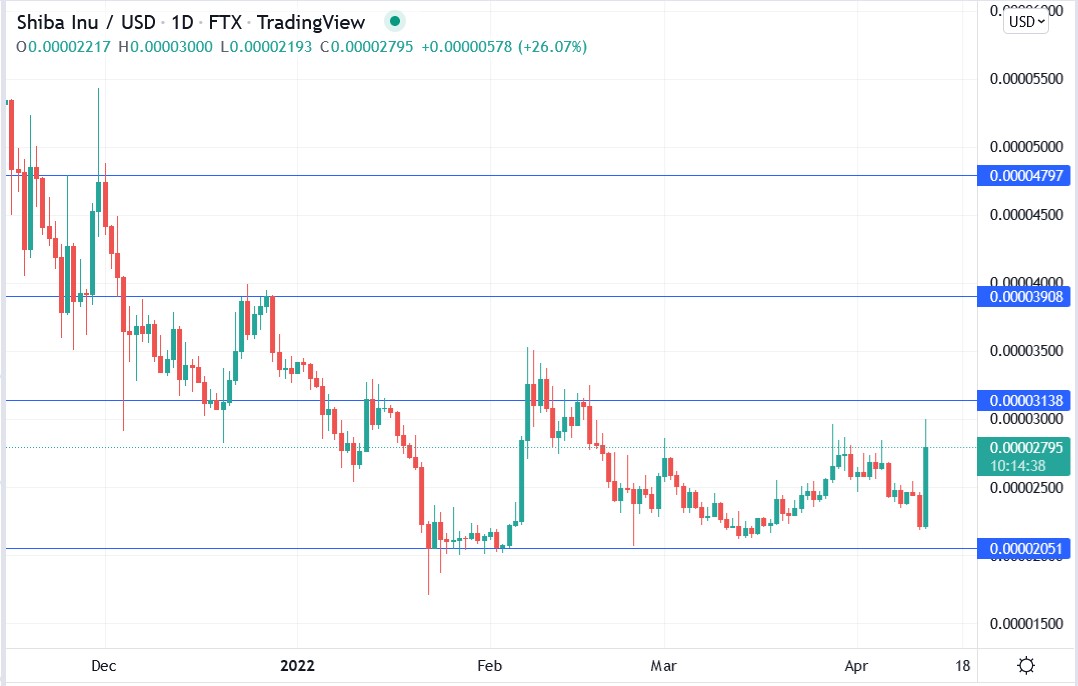 Shiba Inu prices surged 35.21% to trade at $0.00002995, rising from Monday's closing price of $0.00002215.